Installing Windows on your Mac
Follow the steps below to install Windows on your Mac device
Before you start:
Mac devices that come with Apple's ARM processor (launched in mid-November 2020), for example the M1 chip, will not allow you to install Windows.
You should think carefully about installing Windows on your Mac using Boot Camp as it will remove hard drive space on your Mac.
UWE Bristol IT Services are unable to provide support with installing Windows on a Mac. If you experience issues or need additional help with doing this please contact Apple support.
If you haven't already done so you will need to set up multi-factor authentication (MFA).
Using Azure for education or the Azure Dev Tools app in AppsAnywhere, sign in using your UWE Bristol username and password including authentication:

Agree to the terms and conditions - we recommend unticking the marketing boxes.
Select Download software:

Sort the list from Z-A and select one of the following from the list:
Windows 10 Education, version 21H1 - DVD
Windows 11 Education (updated Nov 2021) - DVD
Select View Key, for example: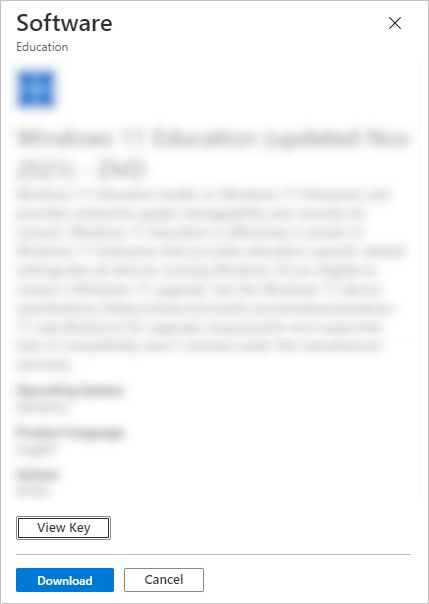 Write down the product key as you will need it later during the boot camp set up.
Please note: the copy option will not work.
Select Download - this may take up to 10 minutes.
Important: whilst this is downloading, think about the size of the partition you want to allocate for Windows on your Mac - you will only get one chance to get this right. Apple recommended amount is at least 128GB as this provides the best experience and is the minimum requirement for Windows updates.
Follow Apple's guidance on how to install Windows 10 on your Mac with Boot Camp Assistant.
Troubleshooting: If you have an Apple M1 chip, Boot Camp will not work as it requires a Mac with an Intel processor. To install Windows 11 on your M1 Mac you can use 'Parallels Desktop for Mac'.
Purchase information can be found via Parallels Desktop for Mac Student Edition.
Remember
Pay attention to the Windows partition size as you can't change this later.
Get ready with your product key, as you'll need this once you restart your Mac as part of the installation process.
During the Windows set up - don't use your UWE Bristol email or password. If you have a personal Microsoft account, use this or select the option to 'use offline account' (it's not very obvious, but should be located somewhere at the bottom of the screen).
If you need help with Boot Camp please contact Apple support.
You may also be interested in
Information on Microsoft 365 features and how to install them, including: email, Microsoft Office and OneDrive.