International and European Student Orientation
A series of social events providing opportunities to meet other international students and introduce you to life at the University.
If you are starting with us in January 2023, we would like to invite you to join our International and EU Student Orientation. Our orientation programme offers you the chance to meet other students and helps you settle into your university life at UWE Bristol and life in the UK.
International and EU Student Orientation events will take place between 9 January and 5 February 2023. We have planned a schedule of exciting events and workshops including an intercultural workshop, city tours, afternoon tea, lunar year celebration, pizza party and much more!
You can find the full schedule of events on the UWE Bristol events diary. To register your interest, please complete this form.
We look forward to welcoming you to UWE Bristol very soon but until then you can keep up to date with all that the Global Centre has to offer on our Instagram page.
If you have any questions, please email globalstudents@uwe.ac.uk.
Please note: a photographer may be present during Student Orientation and some of the images might be used in the future for marketing and promotional activities. If you do not wish to be photographed, please inform us via email at globalstudents@uwe.ac.uk.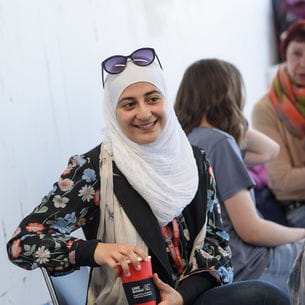 Global Reception
The Global Reception is located in the Global Lounge which is in room 2P4 in P Block on Frenchay Campus. It is open from Monday to Friday, between 10:00 and 15:00 (GMT). This is a space where the Global Student Support team together with Global Ambassadors will be available to help you with any enquiries you may have. We can also signpost you to other helpful services.
Download the International and European Student Guide
Starting at a new university in a new country can be daunting, but we're here to help you every step of the way. We're sure you've got lots of questions – so you'll find lots of useful information in this guide to help you settle in.
International and European Student Guide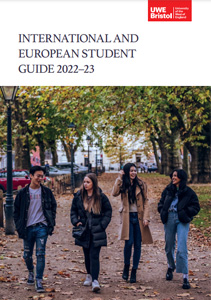 International student events
Events have been moved online to help you stay in touch and connected with our international student community.
International student events
Previously recorded webinars
If you have missed our Student Orientation, you can watch our previous webinars below.
Settle into Bristol
How to open a bank account in the UK
In this session, Arina the Global Buddy will tell you all you need to know about opening a bank account in the UK.
Global Cafe: Supporting international study life in the UK
Get to the know The Students' Union at UWE with an introduction from this year's President, Augusta Chidinma Nnajiofor. This will then be followed by VP Societies and Communication, Samuel Ikpe, who will be speaking about how you can get involved with the 100+ societies at UWE Bristol. We will then welcome you to UWE Bristol and give you some top tips on living standards in the UK.
Global Cafe Meet your PALs
UWE Peer Assisted Learning (PAL) can help you increase your academic confidence, make friends, and boost your resilience. This is an opportunity to meet current PAL leaders and learn about the benefits of engaging with PAL sessions, as well as how to become a PAL Leader. Who knows, maybe you will become a PAL leader next year. Just come along and be curious.