International Student Orientation
The International and European Student Orientation is your chance to meet other international students, as well as staff members from the Global Student Support team. 
The Student Orientation Programme is open to all new undergraduate and postgraduate students and will be delivered online (before arrival and during self-isolation periods) and face-to-face on campus. The programme is designed to provide you with information and advice to ensure you receive all the support you need to get the best from your time at UWE Bristol. This includes a range of activities to introduce you to university life, the wider city of Bristol, and plenty of fun social events run by The Students' Union at UWE.
We know it's important for you to settle in quickly. All key events highlighted below will help you settle into your surroundings and study successfully at UWE Bristol. Our programme provides opportunities to meet your international peers and connect with other students.
Download the International and European Student Arrival Guide
Starting at a new university in a new country can be daunting, but we're here to help you every step of the way. We're sure you've got lots of questions – so you'll find lots of useful information in this guide to help you settle in.
International and European Student Arrival Guide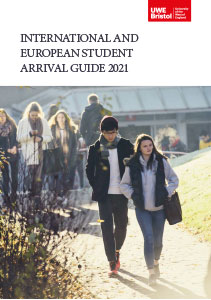 Orientation update
You can keep up to date with the UWE Global Centre on Instagram and Facebook.
In the meantime, we would like to invite you to attend the weekly online Global Cafe events, which are open to prospective and current students. You can find the dates and future topics on the UWE Bristol events calendar.
If you have any questions, please email globalstudents@uwe.ac.uk.
September 2021 International Student Orientation
For September 2021, International Student Orientation will begin before teaching starts. Further information and exact dates will be released at a closer time.
International student events
Events have been moved online to help you stay in touch and connected with our international student community.
International student events
Previously recorded webinars
If you have missed our Student Orientation, you can watch our previous webinars below.
Using Blackboard Collaborate
All our Student Orientation sessions are delivered online using Blackboard Collaborate*. It is an easy, convenient, and interactive web-based tool that provides you the best connection experience with us.
Make sure you use Google Chrome as your browser when logging in on your computer.
You can also join by downloading the Blackboard application on your phone or tablet.
More information about Blackboard Collaborate:
Close other programs and streaming services on your computer except for the browser you are using for your Collaborate session.
Limit video use, only use video during the session only when you are talking or necessary.
Best practice:
Be on time – arrive 5-10 minutes early so you can introduce yourself, and give everyone a chance to get to know you.
Mute yourself when not speaking – to avoid background noises distracting others.
Raise your hand if there is no opening to speak. Type your question and feedback in the chat box. One of the team staff will get back to you.
You may also be interested in