Green Week: Sustainability and climate action for 2021
Our annual festival of eco ideas, events and smart living took place from Monday 18 to Sunday 24 October 2021.
2021 is a crucial year for sustainability and climate action! Get energised and find more about what UWE Bristol and The Student Union at UWE are doing to address the challenges. Our in person and online events are a great opportunity for you to explore ideas, to meet people and to do something new. Here is a flavour of the range of topics and activities:
plans to be carbon neutral by 2030, plus energy clinic
veg/vegan challenge and cook along
The Student Union at UWE's Green Team social, activism, staff climate action cafés, mending and up-cycling clothing, swap shops and sustainable fashion
eco anxiety, climate justice and more
sustainable gardening, bee walk and talks and litter picking
education for sustainable development.
Green Week events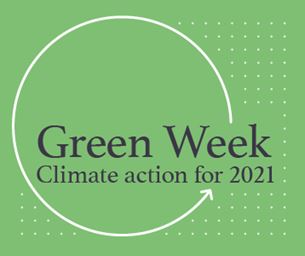 Summary of Green Week events
There are over 50 in-person and online events between Monday 18 and Sunday 24 October 2021.
View summary of events
Other ways to get involved
Here are a few ideas to get you started.
"It is about recognising that we are one planet, one world. We all have a collective responsibility to engage individually and collectively… to move to a different place in our mindset and our actions. This is a hugely important agenda that is going to be with us forever."
Steve West Vice-Chancellor