Carbon, energy and water management
UWE Bristol has committed to be carbon neutral as an organisation, with net-zero emissions of greenhouse gases by 2030.
This covers all carbon emissions (known as Scope 1, 2 and 3 emissions), produced as a result of our activities on and off campus. This includes our own use of electricity and gas, travel of staff and students, and the carbon related to all our purchases (water, construction, food, laboratory and research materials, and so forth). It is a huge commitment and an enormous challenge.
Read on below for more information on how we are approaching this.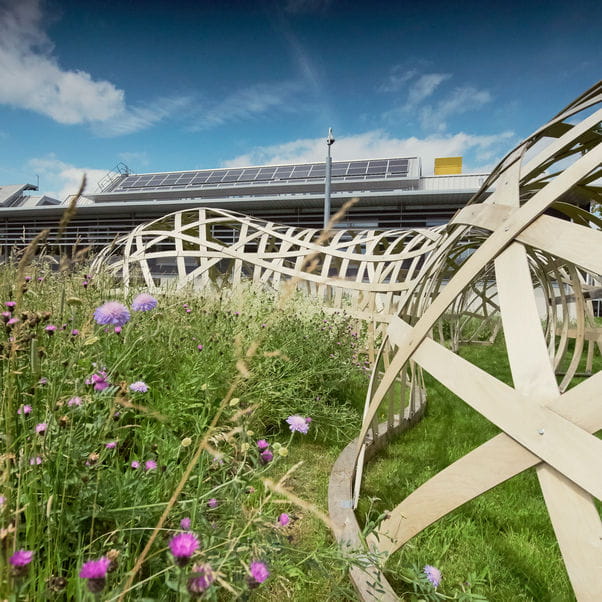 Carbon management
The Carbon and Energy Management Plan 2020-2030 (PDF) outlines the commitment and ambition that UWE Bristol has for reducing our carbon emissions.
Based on science-based targets, this outlines how we will reach net-zero through working through the carbon reduction hierarchy to avoid, reduce and replace before considering means to compensate for carbon emissions (e.g. through offsetting and insetting).
The UWE Bristol Heat Decarbonisation Plan is currently being worked on. This will identify the clear route to decarbonise the UWE Bristol campuses to achieve the net-zero target.
Official Race to Zero Signatory
We are part of the Race to Zero and are leading the education sector for a healthy and resilient zero carbon recovery.
Our targets
UWE Bristol is committed to:
becoming carbon neutral as an organisation, with net-zero emissions of greenhouse gases by 2030 across Scopes 1, 2 and 3
In line with Science Base Targets to limit warming to 1.5 degrees above pre-industrial levels:

Absolute reducing in Scopes 1 and 2 (location based) by 46.2% by 2030 against a 2018/19 baseline
Reduction in Scope 3 emissions by 50.4% by 2030 against a 2018/19 baseline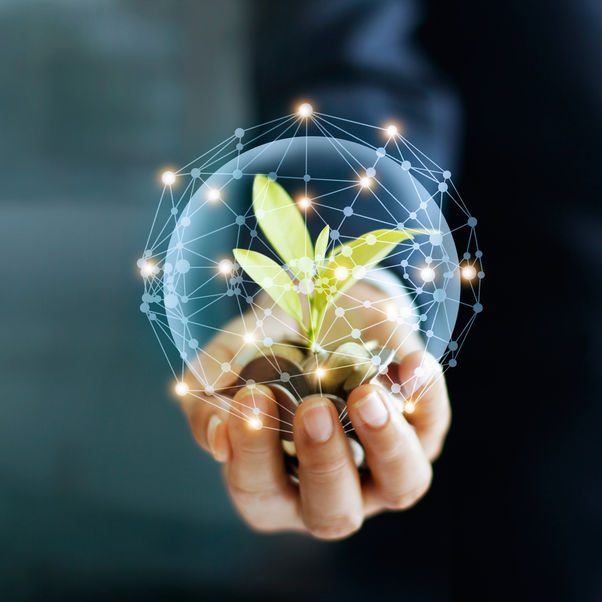 Water management
The Water Management Plan 2020-2030 (PDF) outlines the approach UWE Bristol take to ensuring good water management. The Carbon and Energy Team is continuously monitoring water use patterns and identifying water saving measures across the University. Successes include:
over £125,000 savings in the student village per year - this is a reduction of over 66 million litres
approximately £13,000 savings in Bower Ashton
savings of £15,000 on the Glenside Campus
the expansion of the universities rainwater harvesting systems, R and Z block.
The Estates and Facilities department have been working with academic colleagues, Professor Chad Staddon and other academic specialists. In a comparison from 2015-2019, the University has reduced water consumption by 80 million litres, or approximately £175,000. There is an ongoing programme of projects being carried out to reduce the University's water consumption. The following are a selection of more recent examples:
By utilising the new metering software ESIGHT, developed by the Carbon and Energy Team, alarms are now generated when high water consumption is occurring. This allows fault to be rectified within hours, further reducing water consumption, as well as the environmental impact of water losses.
Showering Research Project - i

n collaboration with UWE Bristol academics and the International Water Security Network, we are investigating water-reduction methods on Frenchay Campus. This project, has provided not only savings to the university, but various academic papers and published journals that have provided data that has benefited institutions globally.

Hot water reduction - with water consumption being reduced throughout the University, substantial savings can be identified by reducing hot water. This provides UWE Bristol with an opportunity to further reduce our energy costs, and help us to achieve our commitment to reduce carbon emissions.
Water sub-metering - to manage the water use of the site, we need to understand where and when it is used. There is a rolling programme, installing sub-meters across all campuses to help understand water consumption patterns in more detail. This includes water sub-meters in major water-use areas such as catering and research labs.
Rainwater - we included rainwater harvesting in the new Engineering Building to use for toilet flushing.
Low water use specification (new build and refurbishment) - ensuring low-flow water fittings and waterless urinals are included in refurbishment and building specifications where suitable.
Renewable energy strategy
We generate our own energy from both solar photovoltaics on site (see details below), and from our CHP engines.
Alongside this, UWE Bristol purchases 20% all electricity from a power purchase agreement. Supporting UK onshore wind, this electricity is generated from the following Statkraft wind farms:
Alltwalis Wind Farm, Carmarthen, Wales
Andershaw Wind Farm, South Lanarkshire, Scotland
Baillie Wind Farm, Scottish Highlands
Berry Burn Wind Farm, Scottish Highlands
The remainder of our electricity is purchased from the grid under a zero-carbon contract, UWE Bristol's ambition is to increase the use of renewables through further installations of solar photovoltaics on site, and through entering more power purchase agreements to support new developments of renewables in the UK.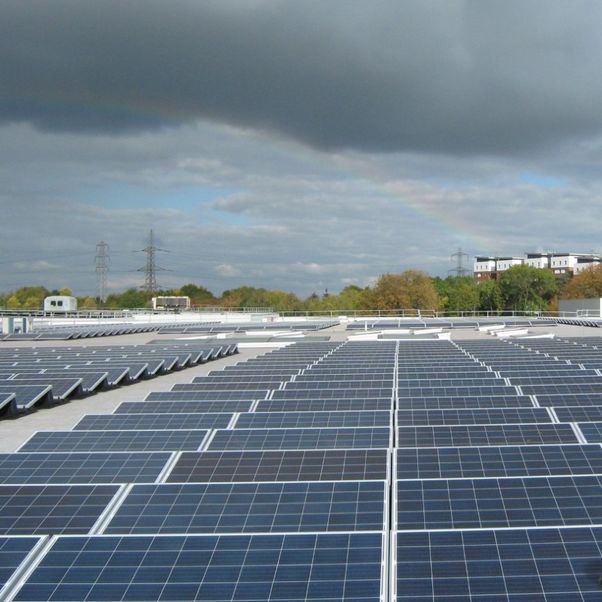 Our commitment to solar electricity
UWE Bristol is committed to maximise the solar photovoltaic potential on our sites. At the time of installation, the array on the Frenchay Campus T-block was the largest single roof-mounted solar installation in the UK higher education sector, installed in 2015.
In the 2021/22 academic year the UWE Bristol on-site solar arrays generated 458 MWh, saving 89 tonnes of CO2 and reducing UWE Bristol operating costs by £115,000.
Projects
We are continuously working on new projects to reduce the University's energy consumption and proactively save money. Below are just some examples of the Energy Team's recent work.
Capital projects
We take pride in working to high sustainability standards for all capital projects, both new build and refurbishments.
School of Engineering building
UWE Bristol's new School of Engineering building on Frenchay campus has achieved an "Excellent" rating for its green credentials from the international scheme BREEAM (Building Research Establishment Environmental Assessment Method).
Examples of the sustainability best practice employed in the building include having lots of natural ventilation, installing PV (solar) panels, connection to UWE Bristol's district heating network, use of underfloor heating and use of materials with high thermal mass (the ability of a material to absorb and store heat energy).
Alistair Brooke, Assistant Director of Estates commented on the project: "A fantastic achievement for UWE Bristol and the Project Team. Strong collaboration enabled sustainability to be embedded from the early stages of the project and ultimately led to the success of the scheme. The project is a further endorsement of UWE Bristol's commitment to sustainability and innovation across its estate."
Student Accommodation Project (SAP3)
Our new, 900-bed student accommodation is being built to Passivhause standards, and will be of the largest low-carbon certified developments of its kind anywhere in the world. It is also a first for the university sector in the UK.
Once complete, the buildings will yield a 54% reduction in running costs and carbon emissions compared with a typical 'good practice' building. Find out more about our new accommodation build.
Energy projects
We are continuously working on new energy projects to reduce the University's energy consumption, reduce carbon emissions, and reduce the university running costs, below are just some examples of the Energy Team's recent work.
District heating network and combined heat and power
A low carbon district heating network supplied by gas-fired combined heat and power (CHP) plant has been in operation since November 2020. It meets 35% of the Frenchay Campus heat requirements and 21% of all the electricity used on the campus. It saves 700 tonnes of carbon dioxide (tCO2) per year and provide a financial payback within seven years. Funding has now been secured to extend the network in 2024/25 in readiness for installing additional low carbon heat sources in line with the Heat Decarbonisation Plan.
The CHP is housed in the T-block Energy Centre, with the district heating network supplying heat to the following buildings on campus: the Students' Union building, the School of Business and Law building, the new Engineering building, the Frenchay Library, Robotics, the University Enterprise Zone, the Exhibition and Conference Centre and part of the Wallscourt Park residences. During 2024/25, the network will extend to S block, A-N blocks, Q block, R block, the Farmhouse and the remainder of Wallscourt park residences.
Student accommodation heating upgrades
In the summer of 2020 a project started to upgrade the electric heating and the controls in the Student Village. This covered around 70% of the rooms. The new heating controls, supplied by Prefect, have built in PIRs ensuring less energy waste because the controls switch off after 10 minutes of inactivity in the room. The new controls now give the students control over whether they want their heating in low, medium or high mode and can also use the boost setting for extra heat. Along with this, accommodation staff can make changes via a web portal rather than having to enter student bedrooms. Other energy saving measures include open window detection, which will sense a drop in temperature and determine that leaving the heating on would waste energy and will again switch off.
Approx. savings seen in Brecon Court: Feb 2020 vs. Feb 2021 – 16% reduction in energy use, saving 15,300 kWh and 3.2 tCO₂e.
The remaining 30% of the Student Village was completed July-Sept 2021 ready for the new students arriving for the 2021/22 academic year.
Due to the success of this project it was decided in September 2020 that houses 1-38 in Wallscourt Park would also be upgraded from gas central heating to electric heating, using the same controls. This had added benefits as some rooms were much hotter than others and now rather than struggling with a whole house system each room can be controlled individually.
Most recently (May 2021) The Hollies had a Prefect install to upgrade their heating controls to the same as those at the Student Village and Wallscourt Park House 1-38. At the same time the hot water tanks had new heating elements installed (two per tank) which are more energy efficient, easier to manage via the online portal and don't both run at the same time unless necessary, giving further energy savings.
Prefect controls are now specified as standard as part of any student accommodation new builds.
Lighting projects and upgrades
Over the last few years there have been some large lighting upgrades at UWE Bristol. In 2018/19 alone we committed £822,000 for a number of lighting design schemes which were projected to deliver 283 tonnes of carbon savings per year. LED fittings and intelligent controls were installed in areas including: the Exhibition and Conference Centre (internal and external lighting), S-block internal lighting, R-block external lighting, Mallard House internal and external lighting, Q-block internal lighting and Centre for Sports communal areas and corridors.
Other lighting upgrades have taken place throughout the estate, although these have been smaller projects. The lighting in T Block storage area was upgraded from sodium fittings to LED's which is estimated to have saved 155,800 kWh and 39.5 tCO₂ each year.
Lighting on Level 3 of the Arnolfini was upgraded in 2022, replacing fluorescent fittings with LEDs.
There are still patches of older lighting across the estate which will be upgraded to LED over the coming few years. Sometimes this will be as standalone projects but may also be included as part of area refurbishments.
Transformer upgrades
There is a plan to upgrade old, inefficient transformers across the estate. The E and N Block transformers at Frenchay Campus were the first to have been changed to new technology. The estimated savings for these two blocks are 75,000 kWh and 19 tCO₂ per year.
This was followed by Frenchay B Block and F Block transformer upgrades. These upgrades are estimated to provide savings of 47,000 kWh / 12 tCO₂ and 94,000 kWh / 24tCO₂ respectively.
Further transformers will be changed over the coming years.
Insulation upgrades
Pipework insulation has been installed/upgraded in various plant room areas across all campuses in a bid to minimise wasted heat. This is an ongoing programme with further pipework insulation being installed where necessary.
Optimising our solar generation
All of the UWE Bristol solar photovoltaic arrays are regularly maintained and cleaned to ensure that they are providing optimal performance. There is also a desire to add more PV arrays and a feasibility study has been undertaken at Frenchay Campus and Bower Ashton Campus to identify the best roofs for further installations.
In the coming years the plan is to add PV to all appropriate roofs. This will form part of UWE Bristol's route to meeting its net zero target by 2030. All new buildings will have PV added to them and existing buildings will have PV retrofitted wherever possible.
Energy Management Software
Our Energy Management Software records consumption of electricity, gas, water and heat from over 1,200 meters across the UWE Bristol sites. This data is used to monitor and measure consumption, enabling variations in profile to be spotted and investigated. This data is also available for students and academics to use for projects, ensuring that we use our own campus as a Living Lab.
We are continually developing and extending the coverage of the automatic metering infrastructure on all campuses to allow greater monitoring and measurement of energy consumption.
Carbon action
The journey to net zero needs everyone at UWE Bristol to understand and participate in action to push forward change. To help all staff and students at UWE Bristol feel they have both the knowledge and the ability to make a real and significant difference, we run a Climate Action programme.
Climate Action Cafes are the basis of this programme and offer teams or groups of staff the opportunity to host a dedicated session to focus on climate change and consider what they can do to tackle this, both as a member of UWE Bristol and in their own lives. Staff from the Sustainability and Energy teams give an introduction into the challenge of climate change and then work with the group to determine meaningful action that individuals or particular teams can take.
The cafes are specific to those who are attending so the focus for each one will be different. The key aim is to find out where individuals and groups can have the most effect on combating climate change and encouraging action.
Carbon literacy training
To further support climate action we are developing a package of carbon literacy training which will give all staff and students the opportunity to enhance their knowledge on climate change. Two training modules are available to all staff and students. The introductory module 'Carbon and You' sets out the essential facts on climate change and aims to give a clear understanding on how to act to reduce their contribution to the causes of climate change. The second module 'Working at UWE' is specifically focused on how staff can understand the impact of their work decisions on UWE Bristol's carbon footprint and incorporate changes that will help to reduce this.
Further training will continue to be developed to assist particular groups of staff with specific roles at UWE Bristol to give a more in-depth review of work activities and how these can be adapted to reduce the impact on climate change. These sessions will be tailored to suit the team and focus on integrating climate change into the everyday practices of that group.
In addition, the Sustainability and Carbon and Energy Teams are rolling out a programme of workshops to professional services teams to facilitate the development of local sustainability and carbon action plans that are relevant to each area of work. The workshops help staff identify how their work impacts on sustainability and where they can contribute to the overarching Strategy 2030 sustainability targets.
Finally, a brand new initiative is also being developed by a cross-departmental and College team to bring climate education to all students at UWE Bristol. In direct response to student campaigning, this course will be available from September 2023. It will offer a fundamental understanding to all students on what they can expect from climate change now and in the future. They will be able to consider how this will affect their ongoing lives and careers and feel empowered to take action – both to help reduce the effect of climate change and feel inspired and emboldened to live and work in the face of this crisis.
Make a difference
Find out how you can get involved in sustainability at UWE Bristol and get ideas and tips on how you can make a difference on campus and at home.
Get involved
Contact the Carbon and Energy Team
Email: energyteam@uwe.ac.uk
Students and academics are welcome to contact us for statistics on our carbon data, campus and building energy and water use, display energy certificates and access to more detailed consumption data.