Carbon, energy and water management
UWE Bristol has committed £1 million each year to fund energy, water and carbon reduction projects.
These projects include:
a much improved water management system
the largest single roof-mounted solar power installation in the UK higher education sector
our new low carbon district heating network.
Read on below for more information on our targets and our current and previous projects.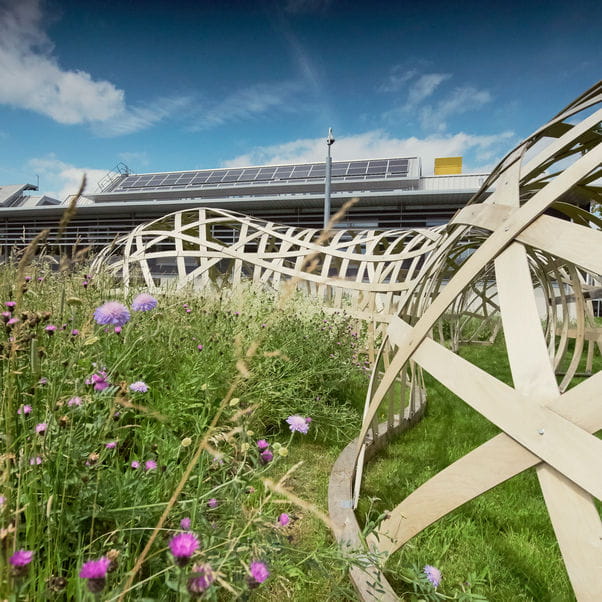 Carbon management
The Carbon Management Plan 2013-2020 (PDF) outlines the commitment and ambition that UWE Bristol has for reducing our impact on the environment. The plan is created with the input of students, professional services staff, academics and the Carbon Trust.
We have committed £1 million per year for the life of the Carbon Management Plan 2013-2020, to fund energy efficiency and carbon-reduction projects - a 50% increase on previous years' project funds which were limited to a £0.5 million Salix Recycling Fund.
This plan outlines targets and clear implementation plans with estimated cost savings, timescales and resources. These are summarised in the Carbon Road Map (PDF).
Official Race to Zero Signatory
We are part of the Race to Zero and are leading the education sector for a healthy and resilient zero carbon recovery in the lead up to COP26.
Our targets
UWE Bristol is committed to:
22.5% total absolute reduction of carbon by 2020 over 2005 baseline; this means that no matter how many buildings, or students, are at UWE Bristol, we must reduce our overall carbon emissions.
50% relative reduction of energy (area and weather adjusted) by 2020 over 2005 baseline; this means that our buildings and services are more efficient, using less energy and water.
10% and 5% of the University's electricity and gas consumption respectively to be generated from on, or near, site low or zero carbon technologies by 2020.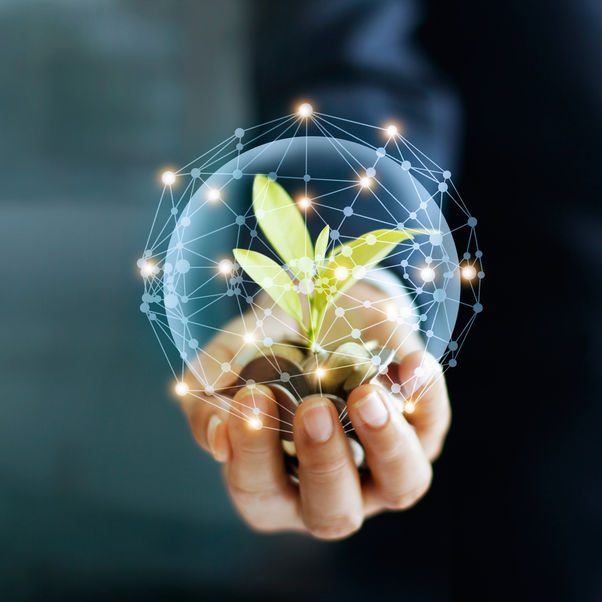 Water management
The Water Review Project Team was established in May 2017 in order to improve UWE Bristol's water management. This has led to the appointment of a water conservation specialist, supporting the identification of water saving measures across UWE Bristol, amongst others:
over £100,000 savings in the student village
approximately £13,000 savings in Bower Ashton
savings of £3,100 in the Farmhouse, Frenchay
a plan to enable the reinstallation of the R Block rainwater harvesting system.
The Estates and Facilities department have been working with academic colleagues, Professor Chad Staddon and other academic specialists. Subject to the challenges identified, the early indications are that the University could reduce water consumption to the baseline figure within 12-18 months.
There is an ongoing programme of projects being carried out to reduce the University's water consumption. The following are a selection of more recent examples:
Showering Research Project: In collaboration with UWE Bristol academics and Bristol Water, we are investigating water-reduction methods at the Student Village on Frenchay Campus. This is a long-term project, assessing the impact on water consumption of installing different water-saving features and behaviour-change interventions.
Water sub-metering: To manage the water use of the site, we need to understand where and when it is used. There is a rolling programme, installing sub-meters across all campuses to help understand water consumption patterns in more detail. This includes water sub-meters in major water-use areas such as catering and research labs.
Rainwater: We are investigating opportunities for rainwater/greywater recycling for new and existing buildings.
Low water use specification (new build and refurbishment): ensuring low-flow water fittings and waterless urinals are included in refurbishment and building specifications where suitable.
A proactive response to faults: eg fixing the urinal fault in the Farmhouse at Frenchay Campus.
"Every project that we develop at UWE Bristol considers the sustainability features that we can introduce to reduce our carbon footprint.
We have developed low energy use features into all of our building projects over the past years, from straw bale insulation at R-block to presence detecting and LED lighting."
Fabia Jeddere-Fisher Senior Lecturer in Energy Engineering and Building Services and Energy Manager at UWE Bristol (2013-2017)
Renewable energy strategy
Our targets
UWE Bristol is committed to Low and Zero Carbon (LZC) electricity and heat generation:
10% electricity to be generated from on/near site LZC sources by 2020/21
20% of space heating and domestic hot water to be provided by 2020/21.
Our progress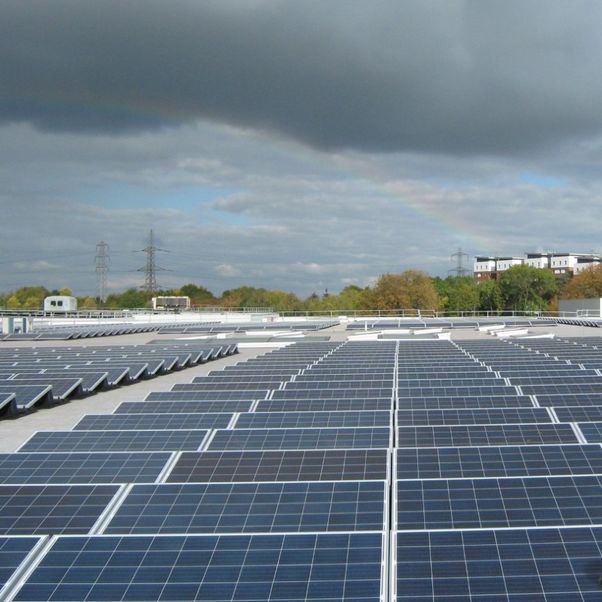 Our commitment to solar electricity
UWE Bristol has already exceeded the expectation of our solar-generating capacity up to 2020 by five times.
The University continues to build and expand the estate, always minded towards renewable energy within building and design.
We recognise the importance of on-site generation, to support the national decarbonisation agenda, increase energy security and enhance local renewable energy capacity.
UWE Bristol is proud to be supporting solar photovoltaic (PV) technology and through these actions inspire the next generation of solar technologies and graduates to work in the PV sector.
Projects
We are continuously working on new projects to reduce the University's energy consumption, and proactively save money, below are just some examples of the Energy Team's recent work.
District heating network and combined heat and power
A low carbon district heating network supplied by a gas-fired combined heat and power (CHP) plant will meet 35% of the Frenchay Campus heat requirements and 21% of all the electricity used on the campus. This will save 700 tonnes of carbon dioxide (tCO2) per year from 2019 and provide a financial payback within seven years. Further plans are being developed to extend the network and install additional low carbon heat sources.
The CHP is housed in the T-block Energy Centre, with the district heating network initially linking to the following buildings on campus: the Students' Union building, the Faculty of Business and Law building, the Exhibition and Conference Centre and part of the Wallscourt Park residences.
Lighting projects and upgrades
Over £822,000 has been committed for a number of lighting design schemes projected to deliver 283 tonnes of carbon savings per year. LED fittings and intelligent controls have been installed in areas including: the Exhibition and Conference Centre's internal and external lighting, S-block internal lighting, R-block external lighting, Mallard House internal and external lighting, Q-block internal lighting.
Data validation project
Students from the Faculty of Environment and Technology are gaining energy management experience working on a large data validation exercise with the Energy Team. This is a key part of our monitoring and targeting programme, where we will use the data to focus in on energy and water savings, and delegate carbon reduction to key managers throughout UWE Bristol. Our objective is to produce near real-time data of the highest quality for our academics, students and operational staff to use.
Metering
Continued development of the automatic metering infrastructure on all campuses to allow greater monitoring and measurement of energy consumption.
Carbon Action Programme
A trial of carbon allowances for faculties, empowering faculties to take ownership of their carbon emissions, working closely with the energy team to identify and fund projects to reduce emissions further.
Previous projects
Campus Carbon Visualiser
The Campus Carbon Visualiser tool shows the carbon emissions from energy use in campus buildings.
Centre for Sport lighting upgrade
In 2015, the lighting in the sports hall and squash courts was replaced, and smart controls put in place. 182 fittings (each containing four x 55W lamps) were replaced with 97 fittings housing 108W or 48W LEDs.
Full controls have also been installed including motion sensors to ensure unused space remains unlit, and a user-friendly booking system allows staff to light space for the time necessary, and at a lighting level appropriate to the activity. The new system has a clean light and the additional benefit of reduced maintenance requirements. Monthly electricity savings of over £1,000 a month are being achieved.
Glenside window draught-proofing
All 2,700 windows on the Glenside campus were draught-proofed to effectively reduce heat loss, as well as making rooms more comfortable for users.
Make a difference
For ideas and tips on how you can save energy, make a difference or get more involved in sustainability, take a look at our get involved page.
Get involved
Contact the Energy Team
Email: energyteam@uwe.ac.uk
Students and academics are welcome to contact us for statistics on our campus and building energy and water use, display energy certificates and access to more detailed consumption data.