Green Fortnight: 14 days of sustainability and climate action for 2022
Our annual festival of eco ideas, events and smart living took place from Monday 31 October to Sunday 13 November 2022.
For two weeks in November we focused on what UWE Bristol and The Student Union are doing to tackle climate change and protect nature.
Our aim was to show the progress taking place at the University and the many ways students and staff can get involved.
With over 60 events from in-depth seminars to art workshops, our in-person and online events were a great opportunity for all to explore ideas, meet different people, and to do something new.
Details below of some of the activities that took place during Green Fortnight.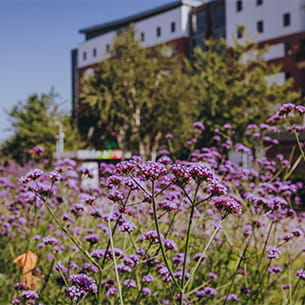 Green Fortnight events
Seminars on a range of topics
impact of the climate crisis on our transport networks
micro plastics in our rivers and seas
measuring biodiversity changes and soil health in rewilding sites
passivhaus and saving energy in our new student accommodation
BBC on actions and programming for sustainability
Avon Pension Fund and the environment.
Sustainable food
vegetarian/vegan challenge – weekend pizza cook along
carbon foot printing of menus in Onezone
Sunday fairtrade tea café
new plant-based food café The Wild Kitchen in S Block.
Sustainable fashion
mending and up-cycling clothing
swap shops
charity shop trawls
alternative fashion worlds workshop.

Climate change
United Nations Climate change conference COP 27
Climate Justice
Fossil free careers.
Gardening
sustainable gardening sessions
beeline and foraging walks
sustainability tours and nature rambles
litter picking in support of Nature and the community.
Green Fortnight 2023
Next year's Green Fortnight will take place from 30 October to 12 November 2023. If you want to be involved or have any ideas of what you would like to see please get in touch.
Contact the Sustainability team