Green Fortnight: 14 days of sustainability and climate action for 2022
Our annual festival of eco ideas, events and smart living takes place from Monday 31 October to Sunday 13 November 2022.
Find out about what UWE Bristol and The Student Union are doing to tackle climate change and protect nature. See how progress is possible and what you can do to take part. Our in-person and online events are a great opportunity for you to explore ideas, meet different people, and to do something new.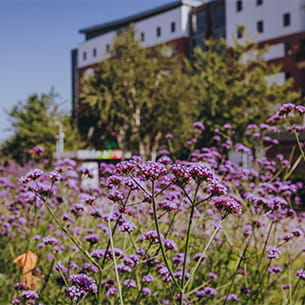 Green Fortnight events
Seminars on a range of topics
The future of roads
Plastics in our air
Biodiversity changes and rewilding sites
Passive Haus and saving energy in our new student accommodation
Diversity and Inclusion in Environmentalism
Sustainable food
Vegetarian/vegan challenge and cook along
Carbon footprinting of menus in Onezone
New plant-based food café The Wild Kitchen in S Block
Sustainable fashion
Mending and up-cycling clothing
Swap shops
Charity shop trawls
Alternative fashion worlds workshop

Climate change
United Nations Climate change conference COP 27
Climate Justice
Fossil free careers
Gardening
Sustainable gardening sessions
Beeline and foraging walks
Sustainability tours and nature rambles
Litter picking
Summary of Green Fortnight events
There are over 40 in-person and online events between Monday 31 October and Sunday 13 November 2022.
Green Fortnight events
Other ways to join in
Join in by making a promise to yourself to do something different this fortnight to protect the planet. Here are a few ideas to get you started: