Sustainability at UWE Bristol
In 2020 UWE Bristol declared a climate and ecological emergency. Through our 2030 Strategy we are committed to addressing the urgency of the challenges we now face.
Sustainability is embedded in our research and teaching, services and campus management. We have invested heavily in campus improvements and new technology, with plans already underway to be carbon neutral by 2030.
Our sustainability leaders, experts and students are assessing and aligning our progress on an ongoing basis in relation to the UN Sustainable Development Goals.
Our staff and students are working to create a positive culture, gaining knowledge, skills and experience to address and adapt to global and local sustainability issues.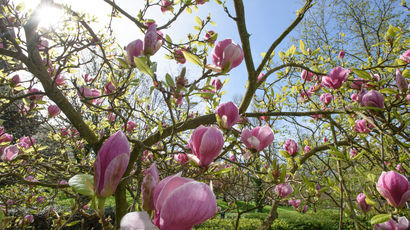 Details of UWE Bristol's commitment to sustainability through our 2030 strategy, leadership and governance, and future plans and goals.
Education for Sustainable Development (ESD) sits at the heart of UWE Bristol's institutional strategy and teaching and learning framework.
"Climate change presents a significant challenge to each and every one of us, one we must not and cannot ignore. So let's make sure that we build on the progress we have made, as a University community and as individuals, as we press forward with our ambitious commitments for 2030."
Steve West Vice-Chancellor, President and CEO, UWE Bristol
Sustainability progress across campus
100% of our electricity is zero-carbon, with 20% secured from UK wind farms. We have invested in a large onsite solar panel array and a new high-tech heating network to increase our own generation on site, providing low-carbon heating and electricity to the Frenchay Campus, saving approximately 650 tonnes of carbon dioxide per year. Our new 900 bed student accommodation opening in September 2023 is built to highest sustainability standard of Passivhaus.
Our grounds support our biodiversity and ecology, for example our award-winning Frenchay Beeline, along with many other projects making a difference. The Students' Union Green Team contribute hugely to our success with many engaging campaigns, initiatives and events.
Make a difference
For ideas and tips on how you can make a difference on campus, and at home and how you can get more involved in sustainability here at UWE Bristol take a look at our 'Get involved' page.
Get involved
Awards, certifications and external recognition
In 2021 UWE Bristol and The Students' Union at UWE are finalists in eleven categories of the UK and Ireland Green Gown Awards, and The Students' Union at UWE received an 'Excellent' Award at the NUS Green Impact Awards and were the highest scoring for the fifth year in a row.