UWE Bristol campuses cover an area of 150 hectares, ie 1.5 square kilometres, with large areas of Glenside Campus and Bower Ashton designated as conservation areas.
In 2020 UWE Bristol declared a climate and ecological emergency and building on previous progress, we have since developed a detailed plan to respond to the crisis. Working with the natural environment to maximise biodiversity, our grounds team use sustainable gardening techniques to create beautiful spaces for students and staff to use for leisure, for study and for practical experience.
Read on to learn about the many ways we are supporting biodiversity across campus and how you can get involved.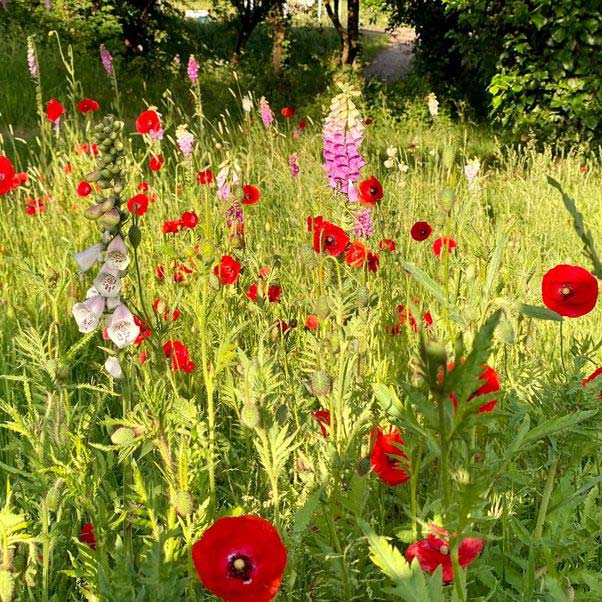 What are UWE Bristol doing to support biodiversity?
We are developing diverse ecosystems through:
meadowscaping areas of grass at Frenchay Campus and Glenside Campus - mown only two or three times a year: these areas will not only benefit wildlife but bring nature closer to people
increasing artificial habitats for bats, birds, butterflies, and ladybirds by providing appropriate planting, roosting and nesting boxes and feeding stations
improving biodiversity and edible planting at City campus and at Glenside Campus; including a small orchard, clear water pond, native bulb planting, herb planting, and wildlife habitats
conducting a review of all ponds at Frenchay Campus with a view to improving their biodiversity
continuing evolution of the community garden, including working with The Students' Union at UWE Green Team and Wellbeing Services; improvement of disabled access and introduction of raised beds for wheelchair users
developing on-site plant nursery to include production of more edible plants, such as kale, lettuces, tomatoes and chard
increasing plant labels and information points to promote biodiversity of the grounds
processing over 90% of our green waste on site into compost for reuse onto the grounds.
using 100% peat free compost and growing mediums
introducing electric vehicles and tools: over 90% of our grounds maintenance tools are electric powered, including lawnmowers and buggies resulting in less noise and air pollution.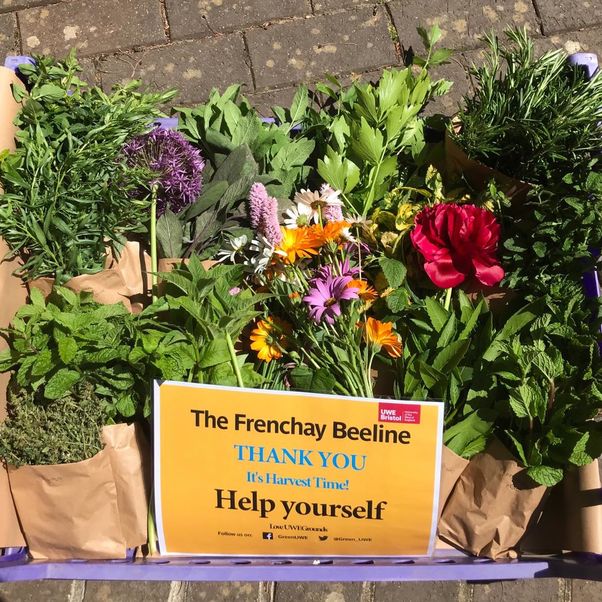 The Frenchay Beeline
The award-winning Frenchay Beeline is a clever scheme to bring nature into the heart of the Frenchay campus, introducing plants that are specifically "edible pollinators" at over 30 locations.
Our staff, students and visitors have access to free herbs, seasonal fruit and vegetables, while also helping to enhance biodiversity in the local area.
Planting schemes have been designed around ten key edible pollinators, this core planting is then supplemented by seasonal edibles and high-performing pollinator plants on a continuous basis throughout the year, dependant on staff/student demands.
This innovative and eco-friendly UWE Bristol project was a finalist for 'Campus of the Future' at the Green Gown Awards 2019.
Beeline video
Find out more about this sustainability project at Frenchay Campus.
What you can do - enjoy, study, garden
Take a walk around Frenchay Campus taking in a range of sustainability features using our Green campus map or our UWE Beeline map (PDF).
Get practical experience of sustainable gardening techniques at our community garden sessions at Frenchay Campus and follow our facebook page for updates. Individual and group plots available, please email sustainability@uwe.ac.uk for details.
Learn about the trees at Glenside Campus during a lunchtime nature ramble.
Get involved with wildlife surveys and our Landscape Management plans and site tours.
Whether working on or off campus, keep up to date with nature on our sites and join the Myuwegarden group for updates.
Join our weekly Thursday lunchtime walks at Frenchay Campus, email marie.pring@uwe.ac.uk for details.
Come on a Bee walk and talk; visit our hives and learn about their world.
If your student or staff group would like a walk or talk specifically for you, please email sustainability@uwe.ac.uk.
Landscape and Biodiversity Management Plan 2020-2026
We are proud to have developed our 2020-26 Biodiversity Management Plan with input from UWE Bristol academics, local wildlife trusts, local councils, residential and business neighbours, and local schools.
Student support and projects
We are keen for students to learn from our management of the grounds. We can support you by providing campus tours, information and interviews. Email Richie.Fluester@uwe.ac.uk for support.
You may also be interested in