Academic Practice Directorate
The Academic Practice Directorate (APD) supports colleagues and students in the design, delivery and recognition of outstanding programmes and outstanding academic practice.
Our specialist team is here to support any academic development activity related to teaching, learning and assessment, to facilitate and promote an institutional culture of ongoing enhancement.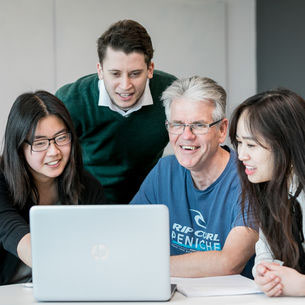 Activities and services
Our work includes:
working directly with programme teams on the development and enhancement of their curricula and teaching practices
providing individuals and groups with support and mentoring for internal and external recognition awards (eg HEA Fellowships, National Teaching Fellowships, Collaborative Awards for Teaching Excellence)
promoting and facilitating educational enquiry, evaluation and development, through internal seed-corn funding awards, and supporting and partnering colleagues in the pursuit of external funding
bringing staff, students and external partners together to exchange ideas and share expertise and experience through institution-wide events, such as the annual Festival of Learning and bespoke team-based development workshops
working in partnership with experienced colleagues from across the University, we offer a range of Advance HE accredited programmes for achieving fellowship recognition, and specialist continuous professional development opportunities
supporting a range of development and recognition opportunities throughout the learning and teaching career journey from Student Partners to Professors. Opportunities such as Introduction to Teaching and Learning in Higher Education programme, Postgraduate Certificate in Academic Professional Practice (PGCAPP), Programme and Module Leader Development programme.
Read more about our offer on the staff intranet (login required) and access our resources through the Education Essentials pages. If you have any suggestions or queries please email us at AcademicPractice@uwe.ac.uk.
Meet the team
Susi Peacock
PFHEA, PhD, PGCert, MSc, BA(Hons)
Deputy Director and Head of Digital Education
Professor Helen King
NTF, PFHEA, SFSEDA, PhD, BSc(Joint Hons), PGCert
Deputy Director of Academic Practice and Head of Academic Development
Petia Petrova
SFHEA, PhD, MSc, BA(Hons), PGCert
Associate Director of Academic Practice
Laura Bennett
SFHEA, PhD, MA, BA(Hons), PGCert
Associate Director of Academic Practice
Paul Redford
SFHEA, DPhil, MSc, BA(Hons), CPsychol
Associate Director of Academic Practice
Shaun Mudd
FHEA, PhD, MA, PCAP, BA(Hons)
Senior Lecturer in Academic Practice
Rebecca Ward
BSc(Hons), Dip
CPD Recognition and Framework Manager
Russell Brookes
BA(Hons), MA, PGCHE, CMALT
Senior Digital Education Advisor
Jenny Narborough
FHEA, PGCertHE, BSc(Hons)
Senior Learning Technologist (Interim)
James Brennan
BA(Hons), AinstAM
Senior Administrator and Project Coordinator
Julia Denman
BA(Hons), CDMP
Administrative Assistant
Louise Mighall
LLB(Hons)
Administrative Assistant
Lauren Rubery
BA(Hons), PGDip
Administrative Assistant
Amber Huckle
MA, BA(Hons)
Administrative Assistant
You may also be interested in