Linking with communities
With around 30,000 students living, studying, working and travelling in and around our campuses, community liaison is high on our agenda.
Find out how we are strengthening links with our local communities and who to contact if you want to get in touch.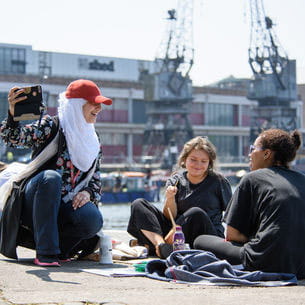 Activities and campaigns
Our partners
We have started a Student Community Partnership with The Students' Union at UWE, the Bristol City Council's Safer Bristol and the police. The group will promote the huge benefits students bring to Bristol, and also address any issues raised by residents and community groups.
Supporting community integration
UWE Bristol is committed to ensuring students integrate well into the local community. We provide helpful advice and guidance to students to raise awareness of their responsibilities towards other members of the community, whether they are in UWE Bristol managed accommodation or private accommodation.
Bristol Student Community Partnership
The Bristol Student Community Partnership has been established to increase community confidence by bringing together partners and provide a co-ordinated approach to promote student/community relations and cohesion, in the context of the positive contribution of both universities in Bristol. It is run by Bristol City Council, the University of Bristol and the University of the West of England.
Other activities
Our other activities include:
introduction of the Stoke Park parking restrictions scheme
promotion of the UWE Bristol Sport facilities among the local community
talks by the campus police officer on student safety and security
providing information to students about private rented accommodation, eg what to look for, tenancy agreements and responsibilities
annual waste campaign

to target student waste left at the end of the academic year

in partnership with Bristol University and Bristol City Council. For information visit the Facebook page.
creation of the ongoing 'Have a Safe Night Out' campaign
running an Islamic Cultural Fayre in Eastville Park, Bristol for families (the event was part sponsored by the Community Together Fund and included a variety of stalls and activities)
the donation of spare bikes to Life Cycle UK projects plus students who donate their time to restore bikes and help out at Life Cycle events. This activity is part funded by the Community Together Fund.
You may also be interested in