Private accommodation
Where to find private rented accommodation and what to watch out for.
Finding the right private accommodation
Lots of our students choose to live in private rented accommodation, and this is a great alternative to university managed accommodation. It gives you more options and is popular with students who want to live off campus.
Our Students' Union Advice Centre offers independent advice on private renting issues. For property-related or maintenance advice contact your letting agency or landlord directly.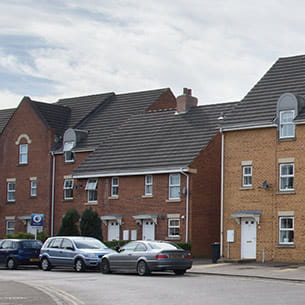 Tips on choosing the right accommodation
If an agency is renting a four-bedroom house, then they probably want to rent to a whole group and not individuals. Why not try searching with a group.
Ideally, you want to live near to the campus you are going to be studying at, so make sure you understand where the property is and that it has good transport links.
How much is the rent? What other fees do you have to pay? As a guide, a room in a shared house is about £400 - £500 plus bills and a deposit could be a month's rent. Other fees can vary so make sure you understand what you are being charged from the beginning.
Budgeting? Use Blackbullion to help you manage your money. It's an easy-to-use learning platform designed to help you develop essential money skills, and it's FREE for UWE students.
Most agencies will ask you for a UK based rent guarantor – someone who will pay your rent if you don't. For international students there are three companies who can act as a guarantor for you, for a fee of about £300; Housing Hand, Rent Guarantor and Your Guarantor.
Don't pay anything or sign anything until you have read through all the paperwork, and make sure you understand whether any monies paid are refundable.
The Students' Union Advice Centre can read your tenancy agreement through BEFORE you sign it, so simply email it to us.
The fine print
Contracts and negotiations
You'll normally need to sign a written tenancy agreement to secure your accommodation.
There are two types of these:
assured shorthold tenancy
licence to occupy (lodger agreement).
Rules and regulations
Landlords have a legal responsibility to make sure the accommodation they provide for you to live in is safe and in good repair.
When you first look round, and later on when you move in, keep the following safety issues in mind – and raise anything you're concerned about straight away.
Any enquiries
If you need any help with private accommodation, contact the Students' Union Advice Service.
They can help direct you to the right websites/agencies (avoiding any scams), with understanding what to look for when viewing a property and what costs are involved. They can also help you understand your rights as a tenant, what a landlord's obligations are along with assisting with any accommodation issues you may have.
Tel: +44 (0)117 32 82676
Email: advice@uwe.ac.uk
For property-related or maintenance advice contact your letting agency or landlord directly.