Global Centre
Helping to integrate students into UWE Bristol by bringing students from the UK and all over the world together to socialise, celebrate global festivals and cultures.
The Global Centre services for students
The Global Centre supports all international and EU students from pre-arrival to arrival and transition to life at UWE Bristol. From Pre-sessional English and Summer Schools to airport welcome, immigration advice and a programme of events to make the most of your time at UWE Bristol and develop a wide network of friends.
Home of GradLink, the global careers website, we can support you to enhance the skills you need to enter a global employment market, connecting you with employers locally, nationally and globally.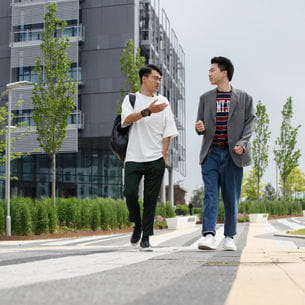 Global Centre projects
As a university with a global vision, UWE Bristol takes the lead on a number of innovative international projects. Below you will find some examples, from charity projects helping communities overseas, through to cutting-edge research that can change lives.
Project Zulu
Project Zulu is a successful UWE Bristol charity initiative supporting educational development projects in South Africa.
Working together with schools and local government partners, Project Zulu identifies support programmes for education, resourcing and infrastructure, and this includes drawing on student and tutor expertise, fundraising, as well as local knowledge and talent.
A key strand of Project Zulu's work includes an excellent UK choir tour, which provides local children with a life-changing opportunity to tour the UK.
Find out more about student Project Zulu volunteering opportunities
The DAIGO project
The Daigo Partnership began in 2019, bringing together UWE Bristol with KORI Youth Charity and Daughters of Africa (DOAF) non-governmental organisation (NGO) in a dynamic partnership providing a platform for the personal and professional development of UWE Bristol students and Gambian youth.
The Vessel UK Training Programme makes sure that students are fully trained and prepared for their learning journeys and project delivery in Africa. The Daughters of Africa NGO, through its team of community leaders, youth leaders, and partner organisations on the ground in the Gambia, are able to ensure students' comfort, safety, and the smooth facilitation of projects, and most importantly the effective recruitment and coordination of invested participants.
Daigo project 2021
Due to the COVID-19 pandemic, all the onsite delivery in the Gambia has been suspended for UWE Bristol students until travel safety is back to normal.
UWE Bristol and DOAF have created new opportunities for students and participants in the Gambia to share skills online in the Digital Daigo Project from March to July 2021. Ten students from each faculty will be recruited by their subject leads. These specific subjects are identified by our Gambian partners as essential skills and knowledge needed for the communities.
The identified areas are:
Law – human rights
Architecture – eco-build
Art and design – working with Gambian artists and the National Museum of Gambia on African heritage
Women's health – reproduction, childbirth, female genital mutilation (FGM) and nutrition
Daigo project in 2019-2020
From 3–17 January 2020 and 6–23 June 2019, 42 UWE Bristol students across faculties undertook two-week team projects in the Gambia and trained 700 people across Gambian communities. This was with the aim of:
enabling multidisciplinary practice and clear understanding of collaborations across the University and partners in Gambia
enabling them to connect their specialism to enterprise in African communities and directly share skills and knowledge with local young people in a sustainable way
broadening their knowledge of global realities and fostering international mobility.
Students delivered workshops and training to a range of participants, including archiving to the staff at the National Museum, first aid and health to trainee nursing associates, schools, sports rehabilitation to coaches and physiotherapists and training local builders using local eco materials and building an outdoor canteen for the Centre for Street and Trafficked Children. Youth leaders volunteered from a range of Gambian organisations alongside UWE Bristol students in order gain new skills, enabling learning sustainability of the projects.
The Daigo Project works with the University's aims and priorities of forming strategic links that enable staff and students' academic activities to make a global impact in sustainable economy and society. The project enables our students to realise their best potential and to contribute positively to society.
Common Purpose Global Leadership Programmes
This is an online cultural intelligence programme where over 100 fellow UWE Bristol students tackle some of the biggest challenges facing the world today. The programme provides students with real world experience of working in a multinational team.
Find out about Common Purpose and other online global experiences