UWE Global Buddies
UWE Bristol's Global Buddy Programme supports new international student's transition into a new academic and cultural environment.
What is a Global Buddy?
The Global Buddy Programme is to support new international student's transition into a new academic and cultural environment. Global Buddies brings together our current UWE international students, who we call buddies, with future and newly arrived UWE Bristol International College (UWEBIC) international students through organised events and activities.
UWE Global Buddies will offer peer to peer support to current international and European students at UWE Bristol and UWEBIC. Starting the university can be a challenging time, especially if you are also travelling to a new country and adjusting to a new culture.
Being connected with a Global Buddy is:
A great way to make new friends from around the globe and have intercultural experiences
Settle into Bristol life and College life more quickly
Share your unique culture with other and spread intercultural awareness
Are you a new international student at UWE Bristol? Would you like to be put in contact with a current UWE Global Buddy? Email globalstudents@uwe.ac.uk and we will put you in touch with your Global Buddies.
Meet your UWE Global Buddy
Eliane Rafaela De Sousa Barradas
Hello, my name is Eliane and I come from Angola. I speak Portuguese and I am a second year student in Economics at Uwe. Aside from studying and reading books, another great way to perfect your language skills is by speaking with your friends and exploring Bristol.
Patience Lee Kachiundo
My name is Patience and I come from Zimbabwe. I am a MSc Environmental Health student at UWE Bristol. I think UWE and UWEBIC is the best place for an international student when it comes to academic support and intercultural learning. My hobbies are reading, watching documentaries, cooking and visiting museums. I consider Bristol is my second home.
George Gergis
Hello, my name is George. I come from Egypt and I am a first year student in Mechanical Engineering at UWE. I love cooking and playing my guitar. My favourite thing about Bristol is that is a student-friendly city. There is always a place to go or something to do with your friends and it's never too far from where you are.
Arina Filatova
Hello, my name is Arina. I am Ukrainian but I have lived in Dubai my whole life. I am currently studying International Business at UWE. I applied to be a global buddy because I know how confusing and difficult it is to move to a new country and I wanted to help and support new students going through what I have been through. My favourite thing about Bristol is the diversity of the city and the number of things to do.
Maria Aijerry Aramil Punzalan
My name is Maria AJ but I prefer to be called AJ. I come from the Philippines. I am a first year student at UWE, where I am pursuing in a BSc Degree in Criminology with Psychology. I enjoy watching true-crime and investigation series and action movies. I spend my free time gardening and listening to retro and jazz music. I do not like cooking.
You may also be interested in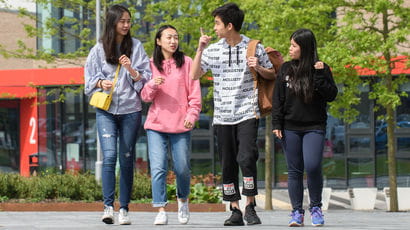 Help and support for international and European students to help you settle in and make the most of the opportunities on offer at UWE Bristol.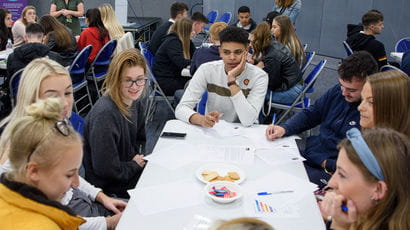 English language support for international students, both before and during your studies.