Information for current students in accommodation
View key information and advice for students living in UWE Bristol accommodation, from behaviour expectations to reporting maintenance concerns and fire drills.
You can also download the Residents' guide to read more information.
No visitors are allowed at this time, as government rulings change this will be updated.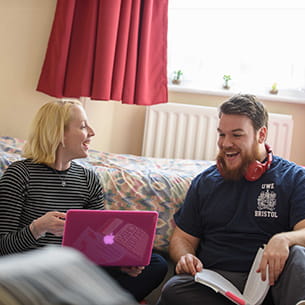 Self-isolation in accommodation
We understand that you might have lots of questions about self-isolation, so we've put together some helpful advice on what to do and how to access support if you or a flatmate is self-isolating.
Self-isolation in accommodation
Report issues anonymously
Report accommodation issues anonymously via our E-listening service that you feel should be brought to the attention of an accommodation officer.
E-listening service
Your behaviour in accommodation
How we manage behaviour
Our behaviour management and intervention processes in UWE Bristol student accommodation.
Drugs and anti-social behaviour policy
Read the Accommodation Services policy and procedure regarding illegal drugs, psychoactive substances and antisocial behaviour.
You may also be interested in