Inspections and safety checks
Why we inspect
Routine inspections and safety checks are conducted to monitor maintenance issues, health and safety considerations and to ensure that accommodation is being kept in reasonable order.
Inspections and safety checks are carried out at least twice during the licence period, and sometimes more frequently. We endeavour to give seven days notice of these visits and it is recommended that, where possible, you are in your flat or house when the check takes place. The exception to this is emergency maintenance, Health and Safety concern such as a fire alarm in your room or to investigate reports of illegal activity.
Health and safety checks
The emphasis of the check is on ensuring that your property is safe and well maintained. The type of issues we will be checking for are as follows:
fire exits and escape routes are clear and accessible
fire alarm system is in order with no detectors covered or removed
fire doors are properly maintained
fire door screamers (where fitted) are in working order
fire blankets are present and in good order
where fitted, window restraints are fixed in place
visual check of electrical items and sockets
floors free of trip hazards such as trailing cables and clothes
all safety notices and signage is correctly displayed
reported maintenance issues have been attended to
a proactive check to see if there are any maintenance issues that you may not have noticed/reported
furniture is not pushed against or blocking any radiators.
Cleaning expectations
Residents are expected to keep communal entrance lobbies and staircases free from litter and in good order.
Residents are responsible for cleaning their rooms, the kitchen, bath/shower rooms and any other areas within the flat or house. If you live in the Wallscourt Park houses a light assistance clean is provided by UWE Bristol.
The below cleaning standards are expected:
Study bedroom
All furniture must be clean – beds must be fully assembled
All rubbish must be removed and placed in the appropriate area
Please remember to vacuum, especially under your bed
Clean skirting boards, window sills and light shades as well as all furniture
If you have a sink/mirror in your room these must be clean.
Bathrooms and en-suite shower rooms
Baths, sinks and shower cubicles – must all be cleaned (including taps and shower controls)
In flats where there is a hair trap in the shower this must be cleaned
Toilets – clean the bowl and seat thoroughly, and behind and underneath
Remove all limescale and staining with a specialist cleaner
Floors should be free of dirt and dust and have been mopped.
Kitchen
Ovens and cookers – must be cleaned both inside and out, including grill pans, shelves, control knobs and any other parts. We recommend that you use a specialist oven cleaner in order to achieve effective results, but please take care and follow manufacturers' instructions carefully
Refrigerators and freezers – must be cleaned inside and out. Signs of regular defrosting of freezers should be evident
Cupboards – thoroughly clean all cupboards inside and out
Floors – thoroughly clean and remove all grease, marks etc. This should include cleaning around cookers and fridges etc
Rubbish – kitchen bins and waste paper bins must be emptied and cleaned
Sinks/drainer – all staining and lime scale must be removed using an appropriate cleaning product.
General and all other areas
Carpets – all carpets must be vacuumed, free from stains and furniture moved to ensure thorough cleaning. Stains are not considered fair wear and tear
Dusting – all horizontal surfaces, not forgetting door frames and banisters
No electrical items such as kettles, rice cookers or heaters are to be used in any study bedroom. Mini fridges are only permitted in study bedrooms if they are for medical reasons and if they are less than 12 months old or PAT tested, notification at the application stage is required if you wish to bring a fridge.
You are expected to ensure that any immediate grounds are kept free of litter.
Cleaning resources
You are supplied with basic cleaning equipment such as a vacuum cleaner, mop, bucket, dustpan and brush. We can supply you with replacement vacuum cleaner bags and food recycling bags on request at the Customer Service Desk.
Cleaning service standards
Accommodation Services arranges cleaning for the communal entrances, staircases and lifts in your accommodation, as well as grounds cleaning.
Cleaning service standards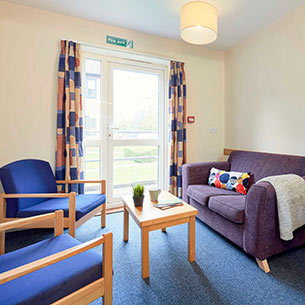 Re-inspections
We hope very much that the visit is a positive and helpful experience. However, this does need some advance effort from the residents. This is what will happen if the condition of the property causes us concerns:
If the property doesn't meet the required hygiene or safety standards, we will inform you of what you need to do to remedy the situation and arrange a time to re-inspect.
If on the subsequent check the items that were highlighted to you still fail to comply with minimum standards a further appointment will be made.
If, on the third visit, there are still areas that do not meet the required standard then the University will remedy the situation without further consultation and will deduct any costs, plus administrative charges from your damage deposit.
Charges at an hourly rate of £15 per hour, plus a £50 administration charge and final warning, will be made where excessive cleaning is required over and above what is covered within the routine cleaning regime, or for cleaning such as the removal of black refuse bags left in communal areas.
Flats or houses that do not meet the required standard will be checked on a more frequent basis and disciplinary action may be taken against residents who consistently fail to comply with requests to improve hygiene or remedy a health and safety issue.
Fire drills
We need to check our fire evacuation procedures and systems as we have a duty to ensure that our residents and accommodation buildings are safe. If there was a fire in the accommodation (and we have had fires in the past) we need to make sure that only the building is damaged and that there is no risk to life.
We:
activate the alarms (having notified our control room that this is a drill to make sure that the fire brigade are not called)
allow sufficient time to make sure that everyone leaves the building – the target time is four minutes
count the number of people who evacuate
normally carry out drills early in the evening when the majority of residents are home.
If all students evacuate the building effectively, we only need to do one drill. If there are problems or delays, we may need to re-test individual blocks at a later date.
Monthly Fire Alarm Sound Tests
These monthly tests are not the same as full fire drills, they are just a short burst of fire alarm to test that the sound is working. They happen once a month at the same time of day each month across all buildings on campus.
We will send you an email reminder the day before each test as well as signage around campus.
The fire alarm sound should last for a short burst of between 10-20 seconds.
If the alarm sounds for longer than 60 seconds at these times you should evacuate the building immediately as per normal UWE Bristol emergency fire procedures.
If you don't hear the fire alarm at these times it could be a potential fault. Please let us know straight away on the Facilities helpdesk by calling 222 (internal) or Tel: +44 (0)117 32 81222 (external/mobile).
Scheduled test days
Tuesday 18 April 2023
No test in May
Tuesday 20 June 2023
Tuesday 18 July 2023
Tuesday 15 August 2023 (Note: Frenchay Campus alarm sound test will only happen at 14:40, no 09:40 test)
Tuesday 19 September 2023
Tuesday 17 October 2023
Tuesday 21 November 2023
Tuesday 19 December 2023
Times of day
Frenchay – 09:40 and 14:40
Bower Ashton – 09:50 and 14:50
Glenside – 09:55 and 14:55
Behaviour management
Students found to be late evacuating or to have tampered with fire equipment will be subject to disciplinary action as per the behaviour management and intervention process.
Behaviour management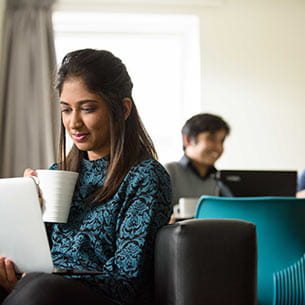 You may also be interested in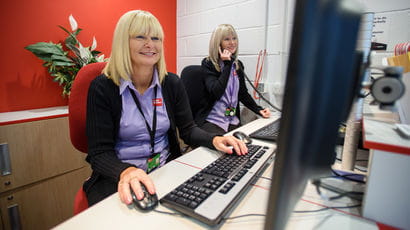 The UWE Bristol accommodation team are here to help you so please get in contact with us if you would like further assistance.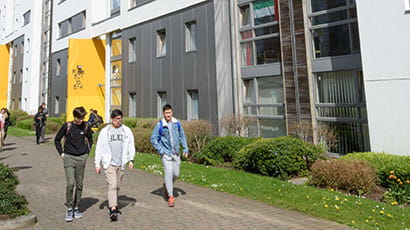 The service standards which we aim to meet for students living in UWE Bristol accommodation.