Accommodation Drugs Policy
Purpose
This is our Accommodation Services policy and procedure regarding illegal drugs, psychoactive substances and antisocial behaviour.
The policy states the position which the University takes regarding the possession or use of illegal drugs or psychoactive substances in our accommodation. It sets out key elements of the procedure followed if a student is found or suspected to be in possession of illegal drugs or psychoactive substances.
Policy statement
UWE Bristol aims to provide a safe, healthy and supportive environment in our accommodation for our students and staff.
We aim to reduce the risks associated with the misuse of drugs through awareness and information programmes.
If students wish to seek help regarding their own or others' drug use, we will provide information about available sources of support.
We will not tolerate the possession, use or supply of illegal drugs or psychoactive substances at any premises under the management of Accommodation Services.
Any person found on premises managed by Accommodation Services having used or being suspected of having used illegal drugs will be provided with the necessary care and attention in relation to their physical condition.
Procedure
Each case will be assessed individually, however, any resident found in possession of, using, or dealing illegal drugs (or what are reasonably suspected to be illegal drugs or psychoactive substances) at any premises under our management will be subject to disciplinary action.
In most cases, the disciplinary process will be undertaken by the Accommodation Services management team. In some cases the team may, at their discretion, refer a case to be dealt with under the University's Student Conduct Policy, either before or after having conducted their own process. There are a range of possible outcomes following the disciplinary process including a written warning through to Notice to Quit. More details about Disciplinary Action can be found on the Behaviour Management page.
Please note: a Notice to Quit does not release the student from the financial liabilities of their contract, and they will have to continue paying the rent despite not being able to live at the accommodation (please refer to your Accommodation Licence 8.4).
Accommodation Services has a duty to inform the police of any incident involving illegal drugs. This could result in criminal prosecution. If a student is convicted of a drug-related offence, there may be additional implications in the future for employment and travel. This could also impact on our ability to give future landlord references.
Accommodation Services will also inform your college of the disciplinary process. Students should be aware of the potential implications for professional suitability, professional registration etc, especially with regard to vocational qualifications.
Non-residents
Any person found on premises managed by Accommodation Services, and who is not a resident at those premises, and who is found or reasonably suspected to be involved with illegal drugs or psychoactive substances, will be subject to an immediate lifetime ban from those premises. Any associate of that person, who has invited them onto the premises and is a resident, may well be considered for disciplinary action themselves for allowing the incident to take place.
Appeals
If a warning letter or 'Notice to Quit' is served, students have the right to submit a letter of appeal if they consider the decision to be unjust. Letters of appeal are to be addressed to the Head of Accommodation Services, Frenchay Campus. A full review of the evidence and circumstances will then be undertaken.
Feedback
If you want to provide feedback in relation to this policy, please direct it through your Accommodation Manager/s.
Support
If you think that you, or someone you know, has a problem with use of drugs, you can contact:
The Wellbeing Service for a confidential counselling service.
The Students' Union at UWE Advice Centre for information about sources of support including local services and helplines.
The University also has a Student Alcohol and Drug Policy.
Behaviour management
Behaviour management and intervention processes in UWE Bristol student accommodation. It includes anti-social behaviour, drugs and fire disciplinary guides.
Behaviour management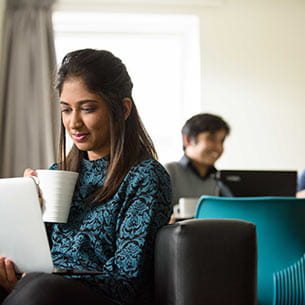 Report an accommodation issue
You can report accommodation issues that you feel should be brought to the attention of an accommodation officer via our report and support service.
Report an issue