Undergraduate guide for parents and supporters
Explore our parents and supporters guide to find out everything you need to know before your child starts undergraduate study. From key dates to a checklist of practical things to consider.
Welcome to our dedicated guide for parents and supporters of current and prospective UWE Bristol students.
You'll find advice on how to choose a university, key dates in the application timeline and a checklist of practical things to consider throughout the process. Discover how to help your child prepare for student life and how you can best support them when they're studying here with us.
Sign up for updates
To receive the latest information, please register for our email updates.
Subscribe to our parents and supporters newsletter
Contact us
Got questions or concerns? Get in touch with us.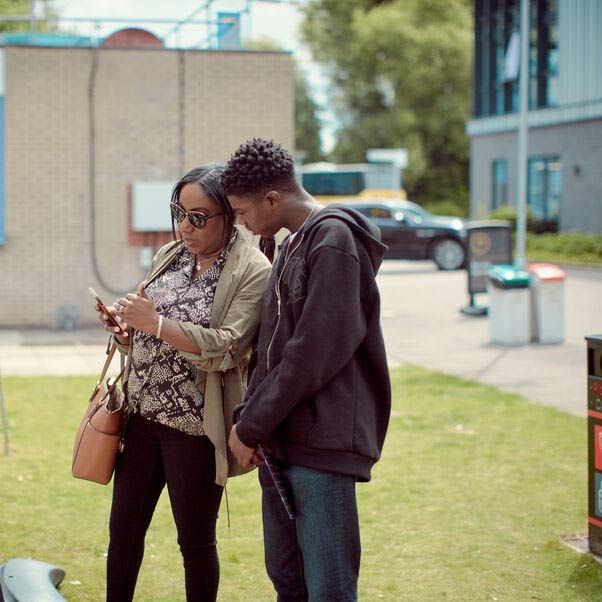 Parent and supporter webinar - guidance for your child's application
Join us on 17 January 2023 (12:30 to 13:15) to find out the benefits of higher education and how you can provide support during the application process and beyond.
Register now
Why go to university
We understand it can be daunting when your child is preparing to go to university. Perhaps your child is living away from home for the first time or moving to the UK from overseas. Or if your child's the first person in your family to go to university, you may be wondering what it will be like.
Whatever your concerns, it's natural to feel nervous. We can reassure you that your child is in safe hands at UWE Bristol. They'll join our inclusive and supportive community, with a range of activities to help them to fit in and make friends in a safe campus environment. Plus, they'll have access to all the wellbeing and academic support services they'll need to thrive, from counselling to Peer Assisted Learning.
Deciding if university is the right option
As a parent, you may be wondering if your child should go to university, and if it's worth the cost. If you're from overseas, you may also question whether a UK degree is valuable in your home country, and whether your child can apply for a post-study work visa.
When considering the value of going to university, a degree is an investment. At UWE Bristol, your child will have access to career development support and practical opportunities such as work experience, placements and part-time jobs. By gaining practical experience alongside their studies, your child will graduate with improved employment and salary prospects at the end of their degree.
The broad range of opportunities at university can boost your child's confidence, skills and career ambitions. University is for everyone, and the opportunities available are open to all, no matter what your background, circumstances or interests are. The important thing is that your child chooses the right university and course for them to help them reach their potential.
Money is a common worry for students and their parents and supporters. The good news is that many students are eligible to apply for financial support, such as funding, loans, scholarships and bursaries. Our students can also find vacancies for part-time jobs through our Students' Union JobShop, which they can fit around their studies to supplement their income. Our Student Money Service are on hand to provide advice too.
Checklist of things to consider