Undergraduate study guide for parents and supporters
Everything you need to know about your child starting university.
We understand it can be daunting when your child is preparing to go to university. It's likely to be the first time your son or daughter is living away from home, so it's natural to feel worried. We can reassure you that your child is in safe hands here at UWE Bristol.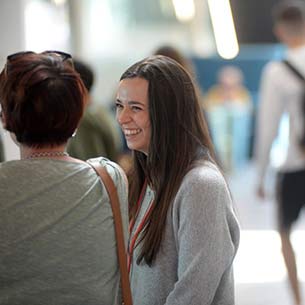 Employability and careers
We prepare our students for the real world, so employability is at the heart of all of courses here at UWE Bristol. All students have access to career development support, from careers drop-ins and events to mentoring programmes, plus opportunities to find work experience, jobs and placements.
Health and safety
Safety and security
Many students in their first year will live on campus, which is why we make our campus as safe as possible. At UWE Bristol, your child will have access to 24-hour campus security and a wealth of safety resources and tools, supporting their transition to living away from home and giving you peace of mind.
Wellbeing and support
The health and wellbeing of our students is a top priority. Your child will have access to a range of support services on campus, including health services, counselling, and disability support. So they'll get the support they need to get the most out of their university experience.
The application timeline
As a parent you may play a supporting role in your child's university application, helping them to meet their deadlines and stay on track. We've put together a timeline of key application dates and milestones in the application process to help you provide that support.
"I have felt really supported by UWE Bristol. My lecturers and personal tutors have helped me with balancing my life as a carer. UWE Cares and the Wellbeing Service have been great for support and counselling."
Money and finance
Student finance can be a worry for both young people and their parents and supporters. But for many students there's plenty of financial support available, such as funding and loans, plus the chance to apply for scholarships and bursaries. Our Student Money Service are on hand to provide advice too.
Accommodation
Many students will live in campus accommodation in their first year, enabling them to experience independent living within a supportive environment. Your child will benefit from a range of support services and resources in our halls of residence, helping them to settle into their new home.
Preparing and arrival
Before your son or daughter even arrive on campus, we're here to help them adjust to their new life at university. As well as providing guidance to our new students we also offer advice to their parents and supporters so they're able to support their child with this huge transition.