Before you apply
You're about to change your world. Applying to university is exciting, but it's a big decision and there's a lot to think about. So our experts have put together some shortcuts, must-knows and top tips to help you feel really confident in your choice.
Research your university options
Researching your options and feeling confident in your choice of university is incredibly important. You've got three years to change your world. Choose to make the most of them.
At UWE Bristol, we provide lots of information to help. You can:
Of course, it's a good idea to get advice from parents, teachers and friends, but remember that ultimately this choice is all yours. That's why time spent researching your options now will pay off when you find the right place to study.
Join us for an Open Day
Coming to an Open Day is a great way to find out whether we're the right university for you. You can:
meet our friendly staff and students - ask questions and make connections
go to subject-specific talks - meet your tutors and get inspired
take a campus tour and explore the facilities here - we've invested £millions in your future, and it shows
check out where you might be calling home - doors are open for accommodation tours.
Come along to talks and drop-in sessions where you'll learn more about the application process, funding your studies and employability.
If you can't make it along to an Open Day, you can take a self-guided campus tour whenever suits you.
Research your course options
Just like choosing a university, choosing your course is a big step too. Remember to:
find a course that excites you
check out career options for your degree, and if the university you're looking at has good connections with industry
compare the different courses available within your preferred subject area. It's a good idea to look carefully at the modules, so you can see what you'll learn, and how much variation there is between courses.
At UWE Bristol, we have over 200 undergraduate courses on offer. Once you've found a course that interests you, explore our colleges and schools to see how we'll support your success.
Check the entry requirements
As with most universities, we use the UCAS Tariff point system.
Look at our online course descriptions to see our course-specific requirements. These include typical offers for degrees or diplomas including any specific subjects and grades you'll need.
Check our general entry requirements – that's things like a good standard of written and spoken English.
If you're studying a qualification that's not listed, or if you have any other questions, contact our Admissions Team.
Get your student finances sorted
Money matters - and it's a good idea to be really clear on your financial situation. Sort out your student finances as early as possible, including applying for your tuition fees and maintenance loans. Your funding authority will make the decision on the value of your loans and make sure you receive your money at the start of term.
We offer our students free access to Blackbullion, an online platform with money management modules about budgeting, debt, saving, tax and investing. Our Fees and Funding Team can also answer questions about fees, funding, scholarships and managing your money.
Make your personal statement stand out
The application process is competitive, so your personal statement matters. It's not just your grades we're interested in: it's you. Our admissions tutors compare personal statements when making offers, so this your chance to be yourself, sell yourself and get that place.
Six steps to a brilliant personal statement
Give yourself plenty of time - don't start just before the deadline.
Draft, draft, draft - note down your ideas, write your first draft and then return to it later to check and tweak.
Ask for help - friends, family and teachers may surprise you if you ask for their thoughts on what makes you amazing.
Keep on topic - explain why you would be a good student on the course and provide examples if you can.
Be honest - be enthusiastic, focus on your strengths and sell yourself, but always tell the truth.
Check your work - it's easy to make spelling and grammar mistakes, so read out loud to yourself, then ask someone to proofread your statement.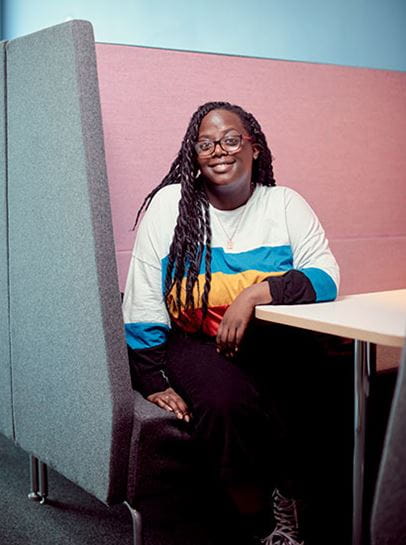 "Add some personality and tell them why they should choose you! If you've run a club at school or sixth form, tell them. If you won an award in your chosen subject, tell them."
Mercedes BA(Hons) Drama and Creative Writing
Deadlines
Remember to submit your application by the Wednesday 25 January 2023 at 18:00 (GMT) deadline to have the best chances of getting onto the course you want.
If you miss the deadline, don't panic. At UWE Bristol, we accept applications after the deadline until the course is full. Take a look at our application timeline for more information on deadlines.
You're ready to apply
So you've spent some time doing your research and now you're all set to apply.
Maybe you're feeling excited, maybe a little nervous? Don't worry – when you change your world, some butterflies are normal! We're here to guide you through our application process step by step and keep things straightforward, so if you have any questions, just ask.