Business services
Services for businesses and start-ups including innovation and enterprise opportunities, professional development and student and graduate recruitment.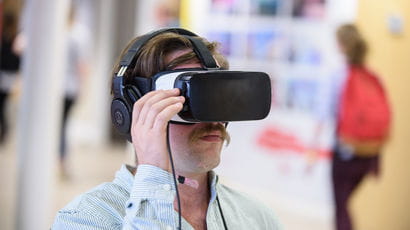 Innovation and funding
We have a reputation for supporting innovation and business growth and can provide expert advice and support that will help your organisation to realise its goals.
Innovation and funding
Professional Development
Our expert staff and diverse portfolio of professional training courses offer you and your workforce the opportunity to acquire new skills and enhance existing experience. Whatever stage your career is at, our programmes give you a competitive edge and allow you to take your career to the next level.
Professional Development
Recruiting student and graduate talent
Employing placement students, advertising vacancies, graduate recruitment opportunities, taking on student and graduate interns, finding student volunteers and attending careers fairs and events.
Recruiting talent
Higher and degree apprenticeships
Higher and degree apprenticeships combine on-the-job training with study for a higher level qualification, giving you the highly skilled and knowledgeable workforce your business needs.
Higher and degree apprenticeships
University Enterprise Zone
University Enterprise Zone (UEZ) drives innovation and enterprise. It provides opportunities for a thriving community of start-ups, fast-growth businesses, graduate entrepreneurs and cooperative research in the high-tech, robotics, digital and health-tech sectors.
University Enterprise Zone