Join forces with UWE Bristol to drive your business forward. Together we can discover more and apply our shared knowledge in ways that help you become more successful.
Collaborative research at a glance
Be part of a cutting edge partnership that complements your business objectives.
Learn and discover collaboratively, sharing your expertise and gaining ours.
Apply research findings to accelerate your business growth.
Access expertise in diverse areas, including health, applied sciences, engineering, technology, law, business, education and the creative industries.
Potentially apply for research and development tax credits.
Working with UWE Bristol
By choosing to undertake collaborative research, your business will enjoy an injection of expertise and new ideas, gaining a valuable new perspective, and potentially discovering profitable new approaches. You will play an active part in a project that may lead to advances in your field.
It is also professionally rewarding, and potentially valuable in terms of PR and reputation. The key outcome of every collaboration is the discovery of real-world applications that meet your business objectives.
How it works
Each programme is different and shaped by the partners involved. Our collaborative research programmes are suitable for a diverse range of organisations. What remains constant, whatever your strategic ambition or sector, is that we will work with you to push boundaries, make new discoveries and achieve mutually beneficial outcomes.
Outcomes for your business
Every research collaboration is different, but past successes include:
A global aerospace business worked with UWE Bristol to develop an IT 'systems selection' process, resulting in significant financial savings.
A pharmaceutical business collaborated with us on microbial biofilm testing. The resulting compound identification led to new product development and commercial licensing.
UWE Bristol researchers worked with a government body on statistical disclosure, helping establish methods for making information publicly available without jeopardising essential privacy.
A truly collaborative process
Through collaborative research, we will be able to better understand industry requirements which can then feed into our teaching and research. In return, we will help you to access leading experts and superb facilities and apply our joint learning to help your business achieve more.
Help with funding
In some cases, we may even be able to secure grants and funding to help cover research costs, making it easier for you to access the expert guidance and insight you need to succeed.
Contact us directly about collaborative research:
Tel: +44 (0)117 32 81043
Email: uwebusiness@uwe.ac.uk
You may also be interested in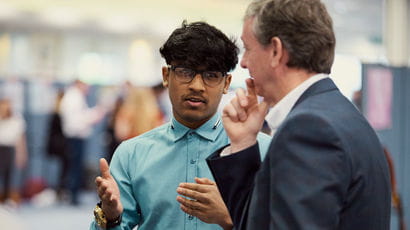 If your business has a strategy for growth, we can help make your ambitions a reality with a Knowledge Transfer Partnership (KTP).