Our aims
We strive to make our diverse UWE Bristol community a welcoming, caring and enthusiastic one, fuelling ambition with opportunities and support to help us all achieve our personal and professional goals. Since people are core to our shared success, we care deeply about your career and personal development.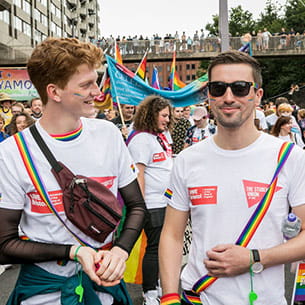 History Month-linked events
UWE Bristol celebrates a variety of annual History Months events throughout the year such as Black History Month, Disability History Month, LGBT+ History Month and Womens' History Month.
These are an opportunity for us to demonstrate our commitment to diversity and inclusion both within our community and beyond. Alongside these, we also deliver flagship engagement activities such as mental health awareness, faith and cultural celebrations.
Bristol events
We are proud of our city engagement of equality programmes. As longstanding supporters and sponsors of Bristol Pride and St Paul's Carnival – we believe that the diversity our staff and students enhances the strength our community.
There are a variety of ways that you can get involved with these events throughout the year. For more information, contact the Equality, Diversity and Inclusivity Team.
UWE Bristol delivers a number of programmes and projects aimed at improving the student experience and reducing inequalities.
Speak Up 
The University launched the Speak Up campaign (which includes Report and Support) for students in September 2018, to create an inclusive campus where diversity is celebrated, antisocial behaviour is challenged in a safe way and any type of harassment, assault or discrimination is not acceptable.
In the 2020-21 academic year, we are launching the Speak Up campaign for staff, offering the training opportunities and communications so staff can recognise bullying, harassment and discrimination, to speak up and to become active bystanders.
Positive action
'Positive action' at UWE Bristol refers to a range of measures, steps and initiatives that the University has taken to support staff and students with protected characteristics groups to overcome historic disadvantage, or low participation in education, training and welfare. Positive action is allowed under the Equality Act 2010 which encourages education providers and employers to take action to tackle disadvantages experienced by people with protected characteristics when they:
experience a disadvantage connected to that characteristic; or
have needs that are different from the needs of persons who do not share that characteristic; or
have disproportionately low participation in an activity compared to others who do not share that protected characteristic.
UWE Cares and Equity are examples of positive action programmes at UWE Bristol.
Positive action is different from positive discrimination, which is unlawful - for example, setting quotas or any form of preferential treatment.
Staff-specific support
Disabled staff
The University is committed to providing support to disabled staff and wants to ensure that disabled staff are not placed at a disadvantage.
There is a variety of support demonstrating our commitment to recruiting, developing and retaining disabled staff.
Staff networks 
There are a number of staff networks at UWE Bristol providing opportunities for social interaction, peer support and personal development.
These are run by staff for staff and bring together people from all faculties, departments and services who identify with a group relating to one of the University's six equality strands (gender, race, disability, age, faith and sexual orientation).