Bristol Pride
Celebrating our 13th year of sponsoring Bristol Pride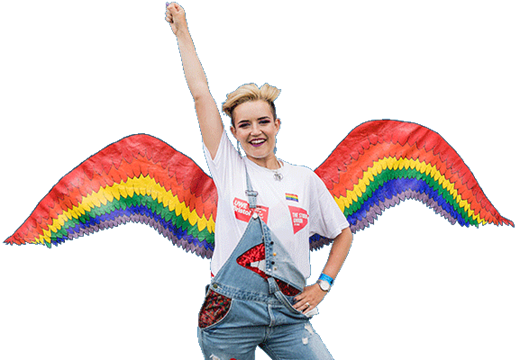 Proud to be a supporter
UWE Bristol has sponsored Bristol Pride since its relaunch in 2010 and now provides continued support as the Access Sponsor. Throughout the years, we have been so proud to be able to support Bristol Pride. This is one of the ways that we demonstrate our commitment to LGBT+ inclusion and reflect our values at UWE Bristol to our staff, students and the local community.
UWE Bristol are also proud to say that we are a Stonewall Diversity Champion and were included in Stonewall's Top 100 Employers 2020 (PDF), ranking 15th in the education sector. We have been noted particularly for our community engagement, working with organisations such as South Gloucestershire LGBT+ Network, as well constantly analysing and considering impacts on our LGBTQ+ students. As an Access Sponsor of Bristol Pride, we ensure that Bristol Pride is accessible and we encourage all to get involved. Bristol Pride Festival 2022 will feature a programme of events that will span two weeks from Saturday 25 June to Sunday 10 July. Pride Day will take place on Saturday 9 July, and after a two-year absence, will return to The Downs.
More about Bristol Pride
Why is Pride important?
Pride is still such an important event today, as it was 53 years ago when Marsha P. Johnson cast the first brick at the Stonewall riots, triggering what would be the start of a liberation movement for LGBTQ+ people. What is so prevalent this year is that Pride has been affected by the historical Black Lives Matter movement.
It is so important that at this time we continue to educate ourselves and recognise the huge impact that LGBTQ+ people of colour have had in LGBTQ+ history, and commend how this has allowed LGBTQ+ people to have the rights they have today. People like Ron Oden, Miss Major Griffin-Gracey, Laverne Cox to name just a handful of people. If you're looking for a way to better educate yourself on such matters, Paris is Burning is a great place to start. Commenting on an array of topics including race, class, sexuality, gender, and the AIDS epidemic, this documentary is a great place to educate yourself with contextual information for the rights of LGBTQ+ figures today versus the late 1980s.
What does this mean for me?
We want to embody the value that we fully support the livelihood and lives of all our staff and students who are part of the LGBTQ+ spectrum.
If you are looking to become more involved in Pride, LGBTQ+ activities or need some support to deal with LGBTQ+ issues, we have listed some sites to check out below:
Bristol Pride gallery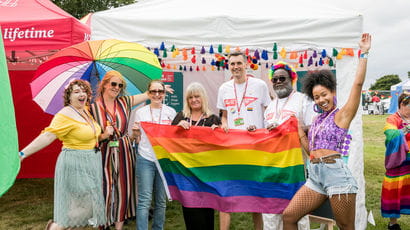 UWE Bristol staff members standing in front of a rainbow flag at Bristol Pride.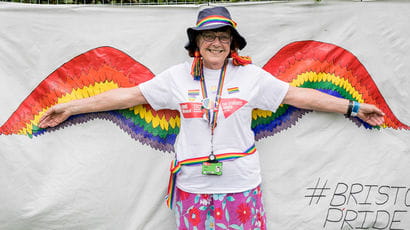 UWE Bristol staff member standing in front of a rainbow flag at Bristol Pride.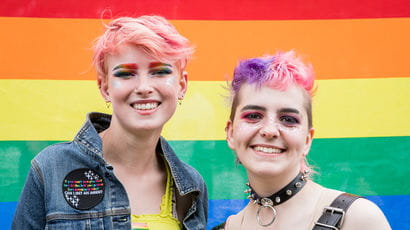 Two people standing in front of a rainbow flag at Bristol Pride.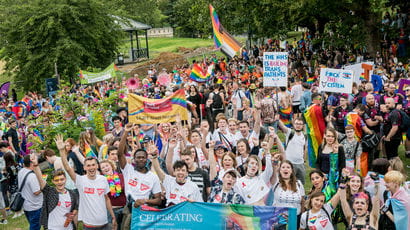 UWE Bristol staff members standing in the crowd at Bristol Pride.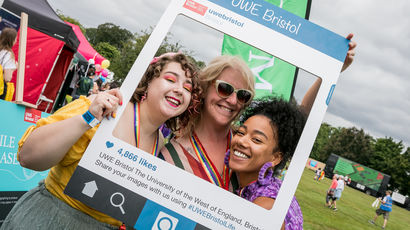 UWE Bristol staff members posing with a photoframe at Bristol Pride.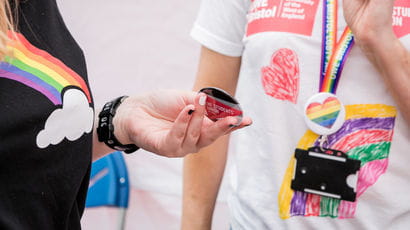 Closeup of UWE Bristol staff members wearing t-shirts with rainbows on at Bristol Pride.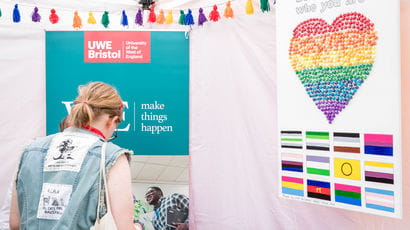 Closeup of a UWE Bristol stand at Bristol Pride.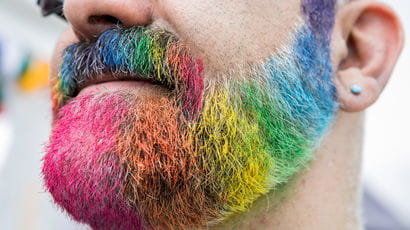 Closeup of someone's beard painted in rainbow colours at Bristol Pride.
Closeup of someone wearing rainbow wings at Bristol Pride.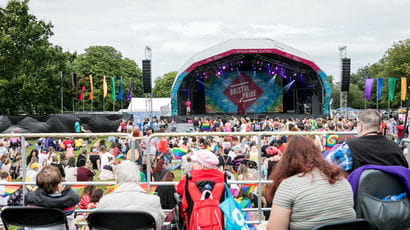 The crowd at Bristol Pride pictured in front of the stage.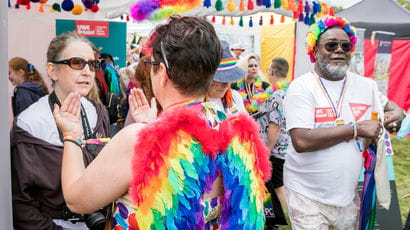 UWE Bristol staff members standing in the crowd at Bristol Pride.










Showing our support for Bristol Pride
Alun Owen
"The UWE Bristol LGBT Staff Network is delighted to again be associated with Bristol Pride. The past 12 months have shown that hard fought for and hard-won rights for the LGBT+ community have a fragility and Pride remains a strong visible reminder of the presence of and the contribution of the LGBT+ community to our city and the wider community. Please join with us in supporting and celebrating Bristol Pride and continuing to show UWE Bristol to be strong supporters and allies to our community."