Support for student carers, care leavers and estranged students
We're there for you if you need it.
Committed to helping you
We understand that going to university can be tough if you have little or no family support, so our UWE Cares package of support can help. We're here as a point of contact throughout your whole time at UWE Bristol – from application to graduation. We can help in a number of ways, including offering pastoral and social support.

We support UK undergraduate students who:
have experience of living in supported housing, local authority or foster care
are permanently estranged or separated from their parents, or whose parents have passed away
who care for an ill or disabled family member as a student carer.
Get support from us
We can support you in a number of ways, such as information and guidance, accommodation, and finance.
Get support from us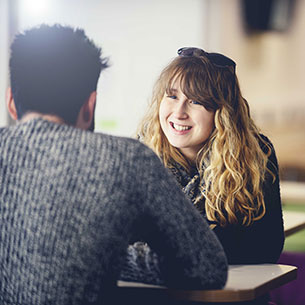 "The UWE Cares service gave me hope: they were my electric blanket in the cold, dark times. They gave me information about counselling, budget planning and helped me meet other students in a similar position."
"My mum had bipolar tendencies. One minute she would be totally fine, having a laugh, the next, she'd be chasing me screaming, throwing things, and I'd find myself trapped inside my room with my bed against my door, hoping she wouldn't find a way in.
"I spoke to someone at college in student services and found out that there was a young person's hostel I could move into. Moving out was extremely difficult. Of course I loved my mum and we had had some amazing memories together, but it came to a point where the bad times were extremely outweighing the good and my studies were really starting to reflect this. I decided to go it alone and become estranged.
"I was always extremely worried about how I would survive at university, coming from a bank account with £0, and no-one to back me up financially or emotionally. The UWE Cares service was like the parents I never had. They helped with anything I needed for my course and there was always a friendly face I could go to who would listen and help.
"Studying Fine Art at UWE Bristol has given me more confidence than I ever imagined possible. I am a completely different person now."
UWE Cares video
Our animation, made by graduate and care leaver Rediat Abayneh, explains how we can support you.
You may also be interested in