UWE Cares support
Ways we can support you if you are a UK undergraduate care leaver, estranged student or student carer.
Here to help you
We are committed to helping you succeed on your course. Our aim is to help you settle in, make the most of the many opportunities that UWE Bristol has to offer, and provide you with information and support to help overcome challenges or worries you might face.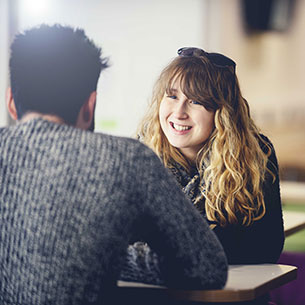 Information and guidance
We'll support you with:
a named point of contact for queries and concerns, from application all the way through to graduation
applicant guidance, support and communications
help to access specialist support services at UWE Bristol, including Information Points, study skills, Student Support Advisers, Library Services, wellbeing support, Accommodation Services, careers and employability and the Student Money Service.
support to access disability support and a Disability Adviser if you have a disability or if your caring responsibilities impact on your studies
regular social events throughout the year so you can settle in and meet other students
opportunities to develop skills, confidence and enhance your CV, for example by attending external events or meeting senior UWE Bristol staff
financial support towards the cost of gym memberships, joining societies and buying ID for jobs and volunteering
a regular newsletter, to help you get involved in opportunities and access a wide range of specialist support within and outside UWE Bristol.
Careers
We'll support you with enhanced careers opportunities and support, including regular communications from UWE Bristol Careers Coaches to help you reach your goals.
Accommodation
You can access 365-day accommodation in all years of your undergraduate study. This means you can apply to live in university accommodation at our Frenchay Campus all year, including during the summer vacation (summer accommodation is always on Frenchay Campus).
If you're eligible for our UWE Cares bursary, we will pay or waive your deposit for UWE Bristol accommodation in our Frenchay, Glenside or City Campus accommodation options.
If you need to stay in UWE Bristol accommodation during the summer months, email UWECares@uwe.ac.uk and we will help you arrange this.
If you're a care leaver or estranged from your family, you'll also have the opportunity to apply for the UNITE Foundation accommodation scholarship. There aren't many of these scholarships, but if you're chosen you'll have no housing costs or bills for up to three years in a city-centre UNITE accommodation building.
To apply for the UNITE Foundation accommodation scholarship, please email UWECares@uwe.ac.uk.
View information about accommodation options at UWE Bristol, including summer accommodation.
Finance
You may be eligible for the UWE Cares Bursary, which is:
£1,500 in each year of your first undergraduate degree course. The bursary is non-repayable and paid to you in three instalments, one in each term
a £500 non-repayable graduation bursary to help you launch your life after you graduate.
You must meet certain eligibility to receive the UWE Cares bursary and deposit waiver for UWE Bristol accommodation options. You can see full eligibility for these aspects of UWE Cares support below.
External sources of support