Study abroad funding opportunities
UWE Bristol students going abroad through an exchange programme are eligible for a range of grants and fee discounts as well as support from Student Finance bodies.
Turing Scheme Grant
Turing Scheme funding may be available to eligible students who work or study abroad. Additional funding may be available through the Turing Scheme for students who receive a UWE Bristol Bursary.
UWE Bristol Employability Bursary
You may be eligible to receive the UWE Employability Bursary. Find out more about the Employability Bursary.
Student Finance package
If you receive maintenance support from Student Finance England (or equivalent bodies), this will continue whilst you're abroad. In some cases, a higher maximum maintenance loan rate will be available because you are studying abroad. You'll still be eligible to apply for a tuition fee loan for any fees due to be paid to UWE Bristol during your studies abroad.
Tuition fees
No tuition fee at the host institution – you will not be charged for tuition at the overseas university where you study.
Reduced tuition fee at UWE Bristol (sandwich year) – if you are a Home/EU students studying for a full year abroad on your sandwich year, you only need to pay the placement year tuition fee to UWE (£1,156). When you come back for your final year, you will then be eligible for lower tuition fees.
Reduced tuition fee at UWE Bristol (replacement year) – if you are a Home/EU student studying for a full year abroad as a replacement year, you only need to pay the year abroad tuition fee (£1,385) to UWE Bristol. You then pay normal fees for the final year.
If you study abroad for less than a full academic year, standard UWE Bristol tuition fees are payable.
Student Finance England travel grant
You may be eligible to apply for a Student Finance Travel Grant. This can help towards the cost of flights, vaccinations, visas and daily travel to and from your accommodation to your place of study. Please visit Studying abroad: travel grants for students (England) for further information specific to Student Finance England, and also for links to Student Finance Scotland, Wales and Northern Ireland.
Managing your money
When considering study abroad, you should research the full costs likely to be involved, and how these compare with what you would expect to spend if you remained in Bristol. These might include:
accommodation
travel costs
insurance (if required)
visa (if required)
living expenses, e.g. food
other costs, eg study books.
You may also be interested in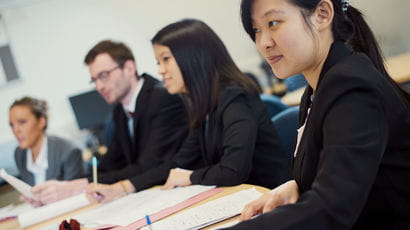 Explore the world and get paid to do it. Future employers will be highly impressed by a placement or internship abroad.
UWE Bristol students have the opportunity to gain international experience by studying abroad as part of, or alongside, their studies.