How to apply for accommodation
How do you apply for accommodation? Will you definitely get a place to stay? What if you've got additional needs? It's all covered here...
Application process
Accommodation in a nutshell
If you're a new full-time student who has accepted an offer on a course – and you apply by 10 June – your place to stay is sorted (as long as you meet the conditions in our accommodation guarantee). More on that below.
Accessible accommodation
We have fully adapted rooms for students with additional needs.
Accommodation guarantee
We will guarantee you a place in University-approved accommodation if you're applying to be a full-time student at UWE Bristol for the first time.
There are four criteria for this. You need to:
For UCAS applicants, accept our offer through UCAS and make us your first choice. For International and Postgraduate applicants, accept your offer through the welcome portal
Apply for your accommodation before 10 June
Agree to take a single occupancy room for the full letting period
Accept our offer of accommodation and pay your deposit within five days of receiving it.
Please note that the guarantee is not open to returning students.
How and when to apply
Once you've considered your options and decided where you'd like to live, the next stage is to apply. We can help you through the process, step by step.
How and when to apply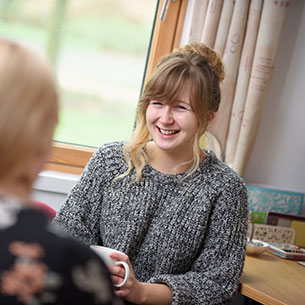 Students with additional needs
Accessible, adapted rooms available on Frenchay Campus.
Find out more
You may also be interested in