Postgraduate support
Our support for postgraduate students includes access to fantastic facilities, study tools and career consultants, plus practical help to access everything from funding to childcare.
Supporting you to succeed in postgraduate study
When it comes to getting the most out of your postgraduate experience, the right help at the right time can make all the difference. So as well as pushing you hard to achieve, we're here to support you every step of the way.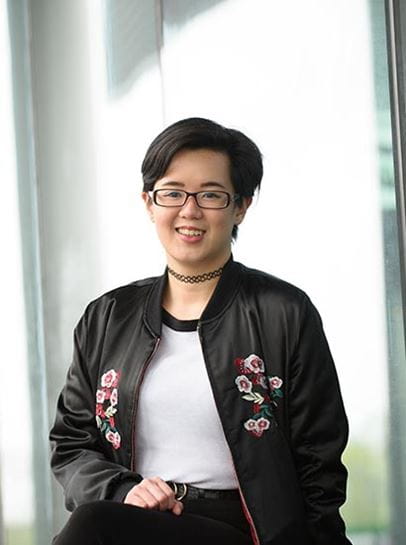 "We all need a bit more support from time to time and at the start of year I had a few issues, so I contacted the wellbeing team. They were so understanding and offered me resources and advice about my mental health, as well as how I could manage it whilst doing my degree. "
Find out more
Dev MSc Marketing Communications
International student Dev found a warm welcome when she joined our postgraduate student community. She's overcome personal challenges, and the supportive atmosphere has helped her feel at home and thrive, as she's diversified her skills.
Dev seized the moment when it came to postgrad study. She had just moved to Bristol and knew she wanted to boost her skills and find a new direction. She decided that postgrad study would stand her in good stead for future career opportunities.
"I wanted to increase my chances of employment, so I chose MSc Marketing and Communications as it's such a versatile subject with many transferable skills. I wanted to stay local so I took the plunge and applied at the last minute."
Dev found lecturers supportive and encouraging, the course rewarding, and making new friends easy. That being said, we all need someone to talk to from time to time, and she has made good use of the support and wellbeing offering, which she found really helpful.
"The people there were so understanding and offered me great resources and advice."
That support has certainly paid off, as Dev is now thriving and has big ambitions for her future…
"I'm hoping to secure a role in digital marketing. I'm currently working with the student social media team, amongst other things, so hopefully that experience will boost my CV too."
Supporting your family
Childcare facilities are available at Halley Nursery, based on Frenchay Campus, providing high-quality childcare and education for the children of students, staff and the local community.
Supporting diversity
Our Equity student programme provides networking and coaching for BAME students.
Our supportive LGBT+ community is incredibly active and passionate.
The Disability Service at UWE Bristol makes postgraduate study accessible to all.
You may also be interested in