Stonewall Diversity Champion
Ranked 15th in the sector
UWE Bristol is proud to be a Stonewall Diversity Champion and is committed to creating a more inclusive workplace using the Workplace Equality Index (WEI) and involving our staff in this process. In 2020, UWE Bristol was ranked 93 out of 503 organisations who made submissions to the Workplace Equality Index. This ranked us 15th in the education sector, out of 54 entrants.
Through our involvement with the Stonewall Top 100 Employers award, we have underlined our commitment to ensure that all students and staff are not discriminated against on the grounds of their sexual orientation.
Being inclusive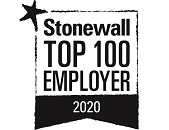 With our involvement with Stonewall and the WEI, we have reviewed processes, everyday practices and policies to ensure they do not discriminate against any student, staff member, contractor or visitor on the grounds of their sexual orientation. It has further enhanced our ambition to go beyond removing discrimination and focused work to create a truly inclusive university.
Being inclusive is one of UWE Bristol's core values. We want all students to feel valued and to achieve their true potential. This includes lesbian, gay, bisexual and trans (LGBT+) students. We recognise that they may experience different challenges and we have a range of services to offer support.
We are a Stonewall Diversity Champion
We offer all staff training on Sexual Orientation Equality and Trans Awareness.
We encourage staff to become LGBT+ allies and challenge discrimination, harassment, homophobia and trans-phobia. You can recognise allies by their rainbow UWE Bristol lanyards or rainbow ribbon pins.
We have been a major sponsor of Bristol Pride since it relaunched in 2010.
All of our large, new buildings have gender-neutral toilets, and they're also included in some refurbished spaces.