Our EDI Champions
Our community of EDI Champions are passionate members of staff who volunteer to engage their teams in conversations around equality, diversity and inclusivity and help raise the profile of EDI at UWE Bristol.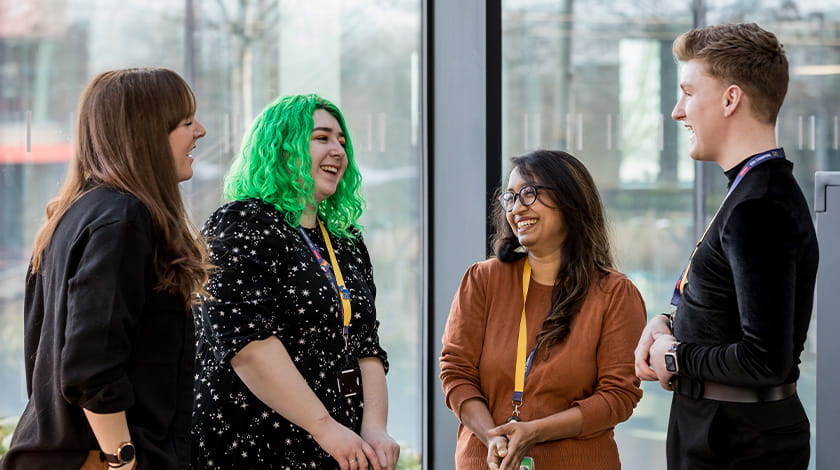 What is an EDI Champion?
Written by the EDI Champions at the Community of Practice:
We will help our teams bring the EDI strategy and policy to life, sharing real life examples, that mean something tangible to our colleagues. As a member of your team, we understand the context of our work and the challenges we face. We are an accessible, approachable, and familiar face that provides a mechanism for all staff to feel heard and involved in encouraging an inclusive culture at UWE Bristol.
This will be an ongoing learning and sharing process for everyone involved. Champions are not EDI experts, but we are committed to engaging with EDI, and learning more. We will help you navigate EDI conversations, expand your EDI knowledge and help you know how to Speak Up if you see or hear something that's not right, and be an active bystander.
We are conversation starters and facilitators. As part of our discussions with you, we will collate insights from the team of areas UWE Bristol could improve or areas of good practice. We are a bridge, creating a two-way relationship between senior staff and our team, prompting them to consider and respond to your ideas, even when they cannot be adopted by the institution.
EDI Champions are a key step in embedding and integrating EDI within everything we all do, helping us move away from EDI being seen as a separate entity and a tick-box exercise to a place where it is entwined into every part of life at UWE Bristol.
Becoming an EDI Champion
If you would like to join the EDI Champions, or for more information, please contact us at edi@uwe.ac.uk.
EDI Champion staff stories
EDI Champions are based in teams across the University. Browse our staff stories to find out more about what it's really like to be an EDI Champion at UWE Bristol.
"My favourite thing about being an EDI champion is initiating discussion on important topics that we often forget about in our usual work environment."
What is your role and how long have you been working at UWE Bristol?
I joined UWE as a Senior Research Fellow in June 2020.
What made you sign up to become an EDI champion?
I supervise a research group which is rich in diversity – people from diverse backgrounds, cultures and ethnicities. I aspire to create an environment where people open up about their differences, needs and expectations from others. Practicing such activity can ultimately create a workplace where people understand each other better, have respect and support each other more.
What does being an EDI champion involve?
Sharing SWAY each month with my team.
Initiate discussion around the spotlight topic of the month, record outcome/opinions/issues collected from the discussion, and share with my line manager.
Signpost staff to UWE services to get support as needed.
What is your favourite thing about being an EDI champion?
My favourite thing about being an EDI champion is initiating discussion on important topics that we often forget about in our usual work environment.
What has been the biggest challenge?
None! Being EDI Champion for the last few months I have received good responses from my team so far.
What would you say to others who are considering becoming an EDI champion?
If you are someone who likes to interact with people, practice healthy work culture and enthusiastic about bringing positive change to your work environment – being EDI champion can be a great option from where you carry on with it in your personal life too.
Is there anything else you'd like to say about EDI champions?
In EDI champions community of practice group, I get to meet people from other departments, talk about their work and life, know more about the campus and the diverse things happening around which ultimately makes me feel more included within the whole university.
You may also be interested in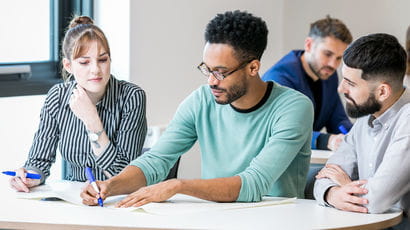 Equality, diversity and inclusivity underpin the University's core values. We support a positive experience and learning for all.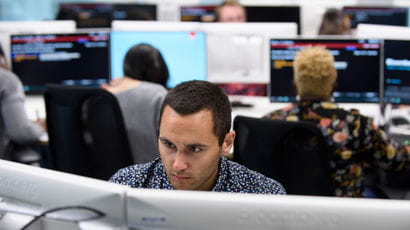 UWE Bristol is one of the proud founding signatories who have pledged to take action to remove the barriers and face the challenges affecting technical staff.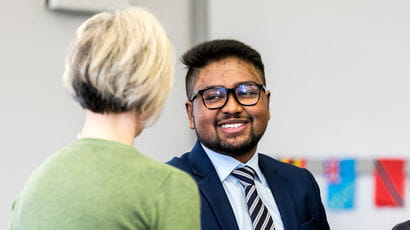 Ways to contact the Equality, Diversity and Inclusivity (EDI) Team.