Expectations upon students
What we expect from you in order to make the most out of your experience at UWE Bristol and ensure your future success.
Learning and education
You will:
manage your own learning and familiarise yourself with the requirements of your programme, including any relevant professional codes of conduct
actively engage with all aspects of your programme
reflect upon your own learning and research activities and the academic feedback you receive
actively participate in opportunities to evaluate your educational experience through programme questionnaires, student surveys, and the student representation system.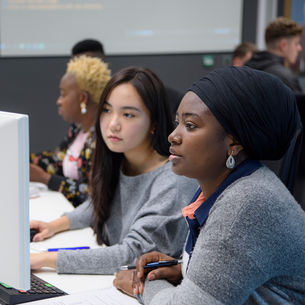 Support and welfare
You will:
actively engage with extra-curricular activities to support our University community, enhance your student experience and boost your employability
acknowledge when things are not going so well and seek the advice and support of the appropriate support service, and encourage fellow students to do the same.
Environment and community
You will:
act as an ambassador for the University when undertaking a work, study or professional placement
act as a responsible member of our University community both on and off campus; show respect for other students, staff, and members of the wider community
be professional in your communications, including in the use of social media
regularly monitor your UWE Bristol email account and the myUWE portal, respond promptly to requests for information, and keep your contact details up to date.
You may also be interested in