Bristol Business School placements
Why do a placement?
Students that undertake a placement year are more likely to graduate into a professional or managerial role.
You'll be able to earn a salary as you work and learn.
Students who undertake placements are more likely to achieve First Class or Upper Second Class Honours.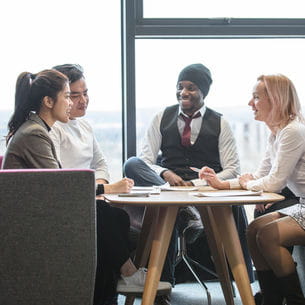 87%
of Business and Management graduates who did a placement year gained professional or managerial roles on entering employment (HESA 2014/15).
£17,200
is the average earnings for Faculty (now College) of Business and Law students on placement year in 2019-20.
91%
of Accounting, Economics and Finance students with placement years graduated with First Class or Upper Second Class Honours.
Accounting and Finance placement video
Where you can work
Previous students have carried out placement years with some leading international and local employers.
UWE Bristol Careers and Enterprise will help you find the right placement through drop-ins and careers appointments, and events.
We strongly encourage you to use the resources on our Careers Toolkit to help you write your CV or application form. For further help please check out our careers services.
"I have been blessed with an incredible team at IBM who dedicate time to ensure that I can get involved in projects that interest me. Some of the vice-presidents I am working with have been with IBM for 20-plus years. They really embrace interns and listen to our ideas; it's just such an amazing opportunity."
Read Samira's story
Samira BA(Hons) International Business, placement year with IBM
When Samira was working Sunday shifts as a fashion sales advisor, she never imagined that her experiences would be discussed at boardroom level.
On track to achieve a first-class honours degree, she went to the IBM Client Centre on London's South Bank for a sandwich placement. The role is helping her understand how people from different business cultures interact.
IBM technology is behind Wimbledon's commitment to giving tennis fans the best championship experiences and the company's annual Business Connect showcase provides an opportunity to engage clients and stakeholders in learning more about cognitive technology and the use of cloud-based systems.
Samira has met diverse challenges head on. As Wimbledon game supporter and devices manager for the 2015 event, Samira challenged delegates and speakers including Lord Coe to think outside of the box by playing a Wimbledon game, giving live demonstrations and ensuring that the team's iPads were at the ready to capture all-important feedback.
A trip to Dubai provided a valuable insight into overseas operations while an interest in languages has seen Samira and a fellow intern co-found their own project resulting in the introduction of a Learn a Language Scheme for IBM staff, which will soon have its own app.
"The time I spent at Coca-Cola was invaluable. I was able to put theory into practice and it gave me so much confidence – which I didn't really have before. Spending 11 months in their Wimpole Street UK headquarters was an incredible opportunity and I was given all the help I needed from my university to win the internship."
Read Charlotte's story
Charlotte BA(Hons) Marketing, Coca-Cola placement year
Gaining valuable real-world work experience can make all the difference to students looking to get their first job.
Charlotte, 22, spent her third-year placement on an internship in Coca-Cola's digital-media department as they developed and rolled out their Instagram account. At Coca-Cola, one of her responsibilities was managing the community on the @cocacolaeu Instagram account. She tracked what the public were posting on Instagram and then "re-grammed" the ones that stood out and matched well with the brand's values.
The University supported her with sharpening her CV and improving her interview technique. It also worked in her favour that she had spent the previous summer working for an Ogilvy & Mather subsidiary, Blue Hive.
For Charlotte, studying marketing was always on the cards, as both her father and uncle work in the advertising world. "It's been in the front of my mind as a future career for a long time," she says. "Listening to them talking about the ad campaigns they've been involved with really inspired me.
"I'm still learning new things, as well as looking at my options when I graduate," she says, "and at the moment I'm torn between working in an agency or on the client side for a big brand."