Banking and finances
Advice for international students on choosing a bank account, opening a bank account and managing student finances.
It is essential to have a bank, building society or post office account to help you manage your finances whilst you are a student.
Many international students choose to open a UK bank account:
To access money more easily and securely while in the UK
To avoid high fees and poor exchange rates when withdrawing money from their home country
To set up recurring payments (direct debits and standing orders) for paying rent; mobile phone contract; gym membership etc.
To receive wages for any part-time work they may undertake
We strongly recommend students do not store large amounts of cash with them or keep this in their accommodation.
The Money matters guide 2022/23 (PDF) will help you understand your financial contract with UWE Bristol and our processes.
The information contained in this guide is accurate at the date of publication (September 2022).
The University cannot accept responsibility for changes affecting the contents which arise after September 2022 or for errors in the original source material.
This document is intended as a guide only.
The University is impartial and cannot advise students which is the best bank to open an account with.
How to open a bank account
You can start getting ready to open an account and save time when you get to the UK or are a registered UWE Bristol student by:

Researching bank accounts
Having the necessary documents ready – for example, Passport and/or BRP card
If you are already in Bristol – telephone a bank branch to make an appointment (if required)
For some banks, you can apply to open an account online rather than making an appointment.

To open a UK bank account, you will need a bank letter from UWE Bristol. To get this you must have started the UWE Bristol registration process.

Make sure to ask the bank to explain what services are available and how they work, as they may differ from those offered in your home country.

Remember to make sure your bank sends paper bank statements to you, as these will be important should you need to renew your visa. For further information, see UKCISA's advice on opening an account.

If you experience problems opening an account or are unhappy with the service you receive from a bank, you can contact the bank itself and explain that you want to make a complaint. You can also seek advice from a UWE Bristol Money Adviser.

Opening an account can take time and you may have to wait a couple of weeks for the bank to set up your account, particularly during busy periods such as September.

You should ensure that you have enough funds available to support yourself for your first two weeks to a month in the UK (in a form such as travellers' cheques or bankers' drafts). Do not bring lots of cash with you, as there is a risk it could be lost or stolen.

Some banks will provide your account details (sort code and account number) before they send you your bank card. Your account is active as soon as you receive your account details.

There are several major banks in the UK and a wide range of accounts. See our bank sample grid for comparisons between four of the major banks in the UK. You can also find out more about student bank accounts on Save the Student.

Some accounts require a minimum deposit to open accounts or a monthly fee. They may also require you to maintain a minimum balance in your account. It is your responsibility to check these fees and requirements before opening an account.
Each bank offers different services, with various incentives and overdraft limits. Make sure you choose an account without a monthly fee, and don't be taken in by the offers if they are not something you will actually use! A bank account overdraft is a great buffer when money is stretched, but make sure to pay it back.
If you will be studying for less than six months, you will have a more limited choice. You may wish to look into obtaining a pre-paid cash card. This allows you to load money on to it and you use it in a similar way to a debit card. Some cards may charge you and have minimum/maximum limits.
Most major banks will offer bank accounts for under 18s, but they may require your parent or guardian to act as a guarantor (UWE Bristol cannot be a guarantor).

Different banks may require different documents for opening an account, but they will all need to verify who you are and where you live.

They will ask for:

Proof of identity – for example, a passport or EU national identity card
Have a visa? You must present your visa or BRP card when opening an account.

They will also ask for information provided on your UWE Bristol bank letter:

Confirmation of your student status
Proof of both your UK term time address and your international residential address in your home country.

For Study Abroad and Erasmus students, banks may accept a standard student status letter which is available in MYUWE. Please check with your chosen bank.

Register

Complete online registration as a UWE Bristol student. Register online in MYUWE.

Check your details are correct

Please check your name and address details are accurate in MYUWE, as this information will show on your UWE Bristol bank letter:

Name – as it appears in your passport or ID card including exact spelling and name order
UK term time address – including your flat/house/room name or number
International residential address (NOT your college or agent's address) – is up to date, spelt correctly and matches your passport or ID card.

Please note: if you are staying in temporary accommodation, for example a hotel or hostel until you find more permanent accommodation, a bank will not accept this as your UK term time address.

If there is information missing or if something is wrong or spelt incorrectly in MYUWE, and you are unable to change it yourself, please contact Information Point.

Next steps

Download your UWE Bristol bank letter from MYUWE. For information about how to do this, please take a look at the MYUWE guidance.
Give the letter to your bank.

At university:

Other useful links:
You may also be interested in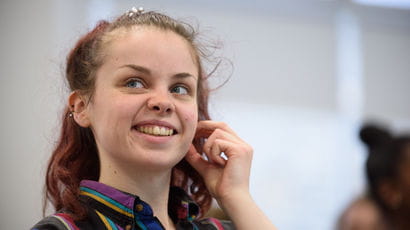 Funding and scholarships information for new students, including advice on undergraduate and postgraduate funding and financial support from UWE Bristol.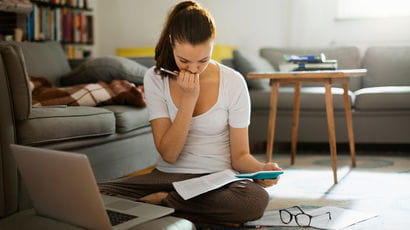 Advice on how to work out your student budget including how to manage income, cash flow, expenditure and using budget calculators.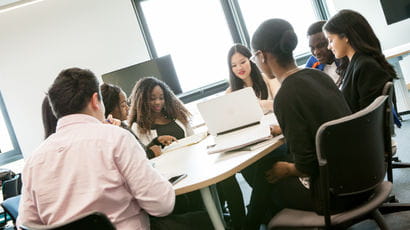 Information about tuition fees for new and returning students, including UWE Bristol's tuition fee policy.