Bars, cafes and shops - Glenside Campus
Coronavirus update
It is now the law to wear a face covering in shops and on public transport. For more information visit the UK government website.
Remember that wearing a face covering can not only help protect others and yourself from coronavirus, but they can also help reduce the spread of colds and flu, helping you stay fit and healthy.
Catering on campus
Catering outlets and daily street food stalls serving tasty, nutritious food and drink.
If you're looking for a tasty hot meal or a quick on-the-go coffee, we have options on campus.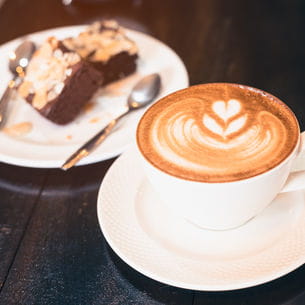 The Hub and the Coffee Pod (H block)
The Hub
Providing a full range of hot meals, meal deals, salads, sushi and sandwiches. Also provides a wide selection of hot and cold drinks, snacks and cakes. The Hub is the perfect place to study, eat and relax.
Opening hours
Monday to Friday
08:30-14:30
Hot food until 14:00.
The Coffee Pod
The independent coffee shop serving barista coffee and great snacks.
Opening hours
Monday to Thursday, 08:00-16:30
Friday, 08:00-16:00
Au Jus - located between B Block and C Block
Freshly baked baguettes filled with slow roasted meats and a dipping jus (gravy).
Opening hours
Monday to Friday
10:00-15:00
Street food stalls (between Library D Block and G Block)
Bristol Eats is an award-winning street food community that sells a range of delicious cultural cuisine. It offers one unique food stall experience per day.
Opening hours
The Students' Union at UWE Coffee Bar
Serving Costa coffee, a variety of soft drinks, snacks and hot food to grab and go.
Opening hours
Monday to Friday
08:00-15:30
The Students' Union at UWE shop
Stocking student essentials including groceries, health and beauty products and stationery.
Opening hours
Monday to Friday
08:00-15:30