Sustainability and suppliers
UWE Bristol Hospitality Services work with a number of carefully selected brands and suppliers who share similar values and commitments to our own.
Providing high quality, sustainable food
Our student and staff demographic is hugely diverse in every way and we aim to provide an equally diverse, vibrant and sustainable food and drink offer.
UWE Hospitality Services are committed to providing good quality, locally sourced food across all our outlets. We encourage and support a healthy, active lifestyle, and offer a wide range of meals which promote a balanced diet.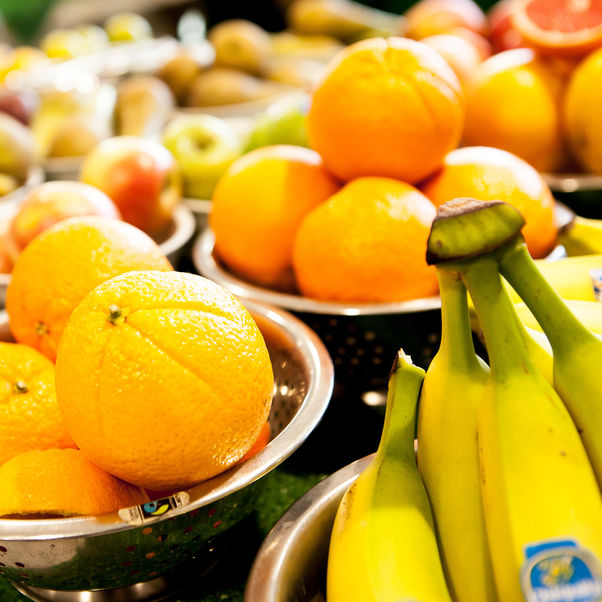 External brands
We work with a mix of internationally renowned brands who like us, have strong commitments to continuously improve their sustainability record in terms of their services, products, supply chain and practices. These brands on campus include Starbucks, Costa, Subway, and Thatchers, and national and local brands such as Crussh, Bristol Twenty, Clifton Coffee, Joe's Bakery, Hobbs House, Glastonbury Spring Water to name just a few.
Our high street restaurant/café franchises employ UWE Bristol staff and students and have enabled us to extend the catering offer on Frenchay campus to include weekends and evenings.
We have chosen our partners carefully based on our student's feedback through surveys and focus groups and wider market research. UWE Bristol is on a journey of change to achieve huge reductions in our carbon, energy use and waste; read more about our goals on our Sustainability pages. You can also find more information on how UWE Bristol Hospitality is providing sustainable food.
Our suppliers
We work with suppliers to encourage proximity purchasing to minimise food miles. By locally sourcing food and ingredients, we can contribute to thriving local economies and sustainable livelihoods whilst avoiding damaging natural resources and contributing to climate change.
Free range eggs
We use free range shell eggs from Reynolds Fruit and Veg, Total Produce and Cotteswold Dairy. We have been awarded the Good Egg Award in conjunction with Compassion in World Farming. Where liquid egg is used, it is a free range product.
Fairtrade
In line with our policy on sustainability, and commitment to principles of fairness and equality, we are committed to supporting, promoting and using Fairtrade goods and has worked hard to achieve accreditation.
We sell:
Fairtrade bananas
Fairtrade tea, coffee and hot chocolate, all accompanied by Fairtrade sugar sachets
Fairtrade smoothies and juices
A selection of cakes, chocolates and snacks
We actively support Fairtrade Fortnight and work with our suppliers to increase our range and sales of Fairtrade products across the university.
Marine Stewardship Council
UWE Bristol uses sustainable seafood products which have been certified by the Marine Stewardship Council (MSC). We never use fish from the MSC 'fish to avoid list'.
Organic milk
All our fresh milk is organic as standard. Our milk is supplied by a local dairy farm based in Tewkesbury which uses dairy farms within a 30 mile radius of their site.
Red Tractor Assured
We use Red Tractor Farm Assured beef, chicken, pork and lamb from John Sheppard Butchers. Some fruit and vegetables are also farm assured, purchased from a few of our other suppliers. By using Red Tractor Farm Assured meat, we can trace all our meat back to independently inspected farms in the UK which must meet safety, hygiene, and animal welfare standards.
Seasonal and local produce
All our prepared vegetables are supplied from Reynolds Fruit & Veg and Total Produce, which sources their produce from local farms in the South West. Therefore we can provide vegetables which are local and seasonal. For certain types of produce there are periods where particular produce is simply unavailable or supply is restricted; so we have to purchase from alternative sustainable sources.
SOIL Association Food for Life Silver Catering Mark
The Catering Mark addresses many of the food quality issues that concern us all. It ensures our meals are made up of seasonal, traceable, healthier, sustainable and fresh ingredients, free from trans fats and nasty additives.
Allergens
We provide transparent advice about products that contain allergens. If you are unsure of anything, please feel free to contact us.