Volunteering opportunities
Joining a community means giving back – and getting a great deal in return. There are volunteering opportunities to suit everyone.
Opportunities by sector
Whether you want to totally immerse in your course subject area, or mix things up and explore a different avenue, there are some really exciting sector-specific opportunities. Think about the skills you want to gain and what fires your imagination – then start connecting.
UWE Bristol professional volunteering
We run a range of projects around Bristol for you to get involved in. Get stuck in working with other students and your local community, gaining CV-enhancing experience and hands-on skills as you give back. Projects take place during the autumn and spring terms, and are designed to fit around your studies.
Professional creative volunteering
Experience counts. Do something great and use your skills to support a charity in areas like photography, film, graphic design, illustration, web development or branding.
Timings are arranged to suit you and the organisation, for up to ten weeks. Typically, you'll work on a real brief related to the skills you want to develop. You'll also get the chance to network with other creatives in the organisation and produce work for your portfolio or CV.
To find out more, get in touch with volunteering@uwe.ac.uk.
"Art + Power really helped me to gain valuable knowledge, confidence and experience. They are a very supportive organisation and I'd definitely like to be involved more and support them in the future."
Phoebe volunteered with Art + Power
One-off volunteering
Only got a few hours to spare? No problem. Many local organisations welcome volunteers for a day or less – with no ongoing commitment.
"One-off events are a fantastic way to volunteer, as you are able to give as much time as you can afford to. The feel good factor of working hard for a whole day is fantastic!"
International volunteering
The UWE Bristol Go Global team have identified trusted global volunteering providers who offer safe, ethical, good value, and positive outcomes for both student volunteers and communities.
"I found the experience both enlightening and useful. I would urge any student who is considering a career in education, or who wants to strengthen their CV with some meaningful volunteering, to take the opportunity to volunteer with local schools. "
Schools Programme Volunteer UWE Bristol Volunteering
The Students' Union
The Students' Union organises a series of one-off action days in the local community for teams of student volunteers working in partnership with voluntary organisations and charities to make a difference.
Upcoming opportunities from The Students' Union at UWE
You can also get involved in a wide range of sustainability, conservation and biodiversity volunteering through the Green Team. these roles are very low commitment, so perfect for a busy timetable. Find out more about the Green Team and sign up to the newsletter.
Interested in fundraising? Looking to use your business skills or to try an enterprise activity? Last year the Students' Union RAG team raised over £90,000 for charity! Check it out.
Apply for an international volunteering project
You will need to apply directly through your chosen organisation's website. Your application will be assessed by the individual organisations. Successful applicants wishing to secure global funding support will receive it on a first-come, first-served basis.
UWE Bristol Employability Bursary
Providing you meet the eligibility criteria, all of the international volunteering programmes above can be part-to-fully funded by UWE Bristol via the UWE Bristol Employability Bursary.
Contact the Go Global team
For any queries regarding international volunteering opportunities, email the UWE Bristol Go Global team on goglobal@uwe.ac.uk.
Nakita's international volunteering experience
Nakita Hedges, LLB(Hons) Law, volunteered with the African Prisons Project (now Educating for Justice). She tells us about surprising things she encountered whilst volunteering, and times where she felt she'd really made a difference.
Get in touch
If you have any further questions about community projects and volunteering please email volunteering@uwe.ac.uk.
I didn't sign up in Term One. Can I still volunteer?
Can I take a break from volunteering during university vacations?
The organisations understand that students need to take breaks for holidays and during exam periods. The most important thing is to tell them in advance so that organisations can plan around you. Our UWE Bristol Volunteering Projects and Schools Programme stop over the holidays.
How long will it take until I can start volunteering?
It often takes longer than people think to organise volunteering. This is because volunteer managers are very busy and they will want to arrange suitable training and inductions for you. Six weeks is quite a standard time to start volunteering but it could be longer if the organisation requires a DBS check.
What if I don't like my volunteering role?
Volunteering is a two-way process. If you are not happy in your role, it is important to talk to the organisation you are volunteering at, or contact us. It might be that they can help to make it a better experience for you. Although you are expected to show commitment, you do not have to keep doing something that you don't enjoy.
You may also be interested in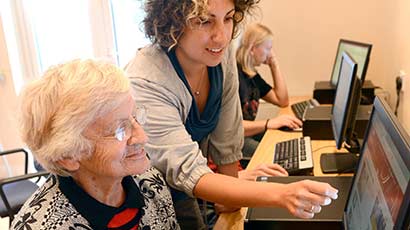 Volunteering is a great addition to your CV. It is also a good opportunity to meet new people, get out and about and have some fun, and make a difference in the local community.