Sport Volunteering Programme
About Sport Volunteering
There's a host of sports-related volunteering opportunities to get involved in. You can volunteer at local schools, sports clubs, colleges, The Students' Union at UWE sports clubs and UWE Bristol Sport.
Our volunteering opportunities are flexible, so we can find something that fits in with your busy lifestyle. They are open to students and staff.
Placements are available in a range of sports within the local area. You can commit to as many or as few sessions as you want to, timings are flexible and will fit around your existing commitments.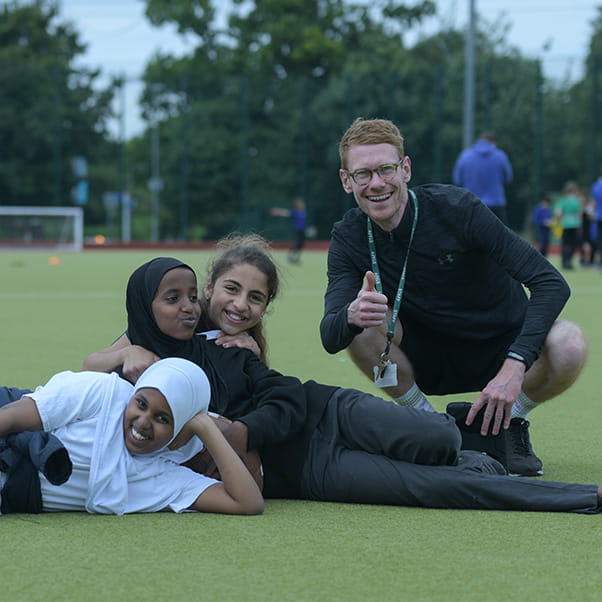 Benefits
You will gain skills and real-life experience that will enhance your CV and help distinguish you in the job market, including:
communication
teamwork
problem solving
initiative
planning and organising
self-management
learning skills
information technology.
As a volunteer, you will also get:

funding towards coaching education courses
sports kit
mentoring and support throughout your placement
references for your CV.
It is a great way to meet people, have fun and help others, whilst gaining a memorable life experience.
"Volunteering gives me a real sense of fulfilment when I see the development and newfound enthusiasm of participants. This program has provided me with the opportunity to bridge the gap between learning and teaching."
Student BEng (hons) Electronic and Computer Engineering, Volunteer Coach at Bowmoor Sailing Club
Coaching and officiating courses
You can also access funding to complete coaching and officiating through the Sport Volunteering Programme. In return, a pre-agreed number of voluntary hours must be completed.
Perfect for aspiring coaches and officials, these courses are ideal if you wish to develop your coaching/delivery skills and gain further experience within sports coaching and physical education.
If you have any questions about our coaching courses, please email sportvolunteering@uwe.ac.uk. Please note that courses and qualifications are returning as per Government and National Governing Body guidance at this time.
External courses
National Governing Bodies (NGB) also provide sports coaching and officiating courses which can be funded through the Sport Volunteering Programme.
Officiating courses
Paid coaching opportunities
We have a range of paid opportunities available. Please email sportvolunteering@uwe.ac.uk.
Volunteering opportunities
MOVE Activator positions
We're working in partnership with a number of National Governing Bodies (NGBs) in order to offer students an eight-month voluntary position at the University.
This positions involve organising and delivering MOVE sessions. For league format sports you will organise and run the league, planning fixtures, organising teams and referees. For sports that are a drop in format you will organise the players that turn up into games. The current sports included are netball, football, volleyball, flag football and hockey.The positions provide the right candidate with essential skills, knowledge and experience to increase chances of employment upon graduation.
To apply, please email sportvolunteering@uwe.ac.uk.
Swimming
Bristol Penguin Olympic Swimming Club (BPOSC) is a community-based swimming club. There are 90 children in swimming lessons and 300 swimmers in the competitive and club squads.
There are swimmers of all ages and abilities, ranging from stage 7 swimmers right through to regional-level and masters swimmers. BPOSC compete in local leagues as well as county, district and open competitions.
You would help out with the teaching or coaching. No experience is needed, as there are fully qualified volunteers to provide support and guidance.
If you volunteer for six months you would be able to gain 50% funding from BPOSC to attend an ASA level 1 swimming teaching/coaching course (with the other 50% funded through the Sport Volunteering Programme). If you volunteer on a weekly basis you would be able to swim with BPOSC for a reduced fee.
BPOSC train at a variety of sites across the city and volunteers can choose a suitable session to volunteer at. Please see the Penguins website for full details of training locations and times.
Contact Polly Mullen at polly.mullen@bristolpenguins.com for more information.
Funding
If you take part in our Sport Volunteering Programme and complete a specified number of voluntary hours, you are eligible to receive funding for your chosen coaching course (UWE Bristol or externally run).
Please email sportvolunteering@uwe.ac.uk for more information.
Leadership
Ready to take on your future? The sport leadership programme supports you through leadership training to enhance your university journey using the catalyst of sport as a learning and practical platform to develop core skills and competencies.
"The course has given me life skills that apply to many aspects of life and I am finding I am already putting them into practice!" - Marcus Van Rest, Filmmaking student.
Networking and employment