Overview
Men's basketball at UWE Bristol operates at an elite level and the programme has established itself as a premier destination for basketball excellence in South West England. As a student-athlete you'll experience a superb basketball experience coupled with your academic study.
You'll be joining a group that is consistently competing in the top level at the British Universities and Colleges Sport (BUCS) competition and striving to be better every season. Follow the UWE Basketball Team on Instagram.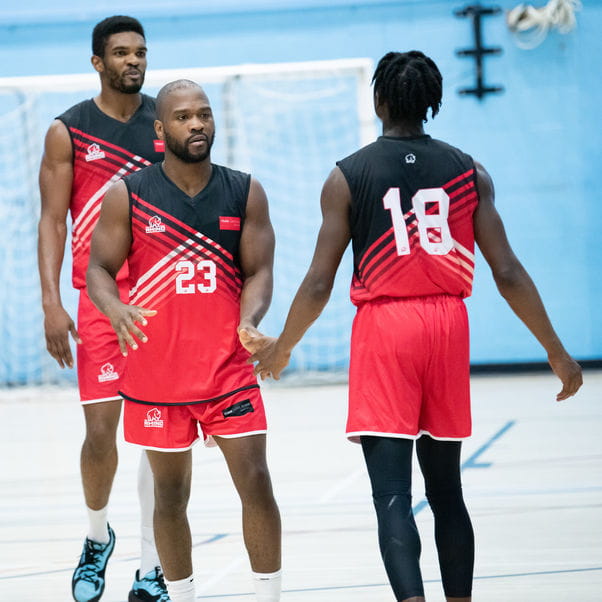 "There is a professional team affiliated to UWE Bristol and a good reputation for my course. Studying was great. I received a lot of support from my advisers and programme leader. I met some great people and made lifelong friends."
Read more about Austin
Austin Hill MSc Biomedical Science
Austin came to UWE Bristol as a student-athlete on the Performance Sport basketball programme and played for the UWE Jets team.
After graduating, he landed a professional basketball contract in Australia.
Your experience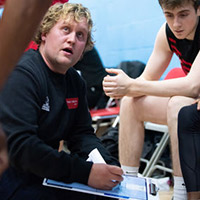 You'll receive professional performance-level coaching throughout your time with the programme combined with sport-specific facilities for training. This includes the Shootaway basketball shooting gun, which is available for you to use whenever the sports hall is free. You'll be able to get up to 1,000 shots in less than an hour, providing you with a training aid that not many programmes in the UK have.
As basketball is one of the performance sports at UWE Bristol there is the opportunity to receive additional support to help you to excel.
The coaching staff at Team UWE Bristol Basketball work tirelessly to make sure you're valued throughout your time at the University. The cornerstones of their coaching pedagogy is empowering you while holding everyone accountable – players and coaches.
You'll receive support on and off the court and your opinions, ideas and thoughts will always be valued when presented in the appropriate way. They want to help you to reach your potential.
Training and competition
View a sample weekly schedule:
| | |
| --- | --- |
| Monday morning | Strength and conditioning |
| Monday afternoon | Two-hour training session |
| Tuesday | Individual workouts |
| Wednesday | Game day/two-hour training session |
| Thursday | Dedicated shooting slots/strength and conditioning |
| Friday | Hour-and-a-half training session |
Games are played on a Wednesday afternoon. There are ten BUCS fixtures each year, as well as playoffs.
You could also compete for a place in one of the Bristol Flyers teams that play in the British Basketball League and National League Division 2. If selected, you'll train at least two additional times per week and have weekend games.
Balancing university and basketball
Bristol Flyers forward and UWE Bristol Health Psychology student Marcus Delpeche shares what it's like to combine postgraduate study with a career in professional basketball.
Performance Student-Athlete Award
If you're a high-performing athlete, UWE Bristol could offer you exceptional opportunities and support to pursue your sporting ambitions through a Performance Student-Athlete Award
Apply for the award