Overview
We take pride in providing an environment where you'll be supported to achieve your performance goals while studying at the University.
You'll be joining a group that consistently competes to become British Universities and Colleges Sport (BUCS) Champions and won the Southern Conference Championship in the 2018–19 season. The University has a rich tradition of American Football and won the 2007 British Universities American Football League (BUAFL) Championship, which preceded BUCS.
Several players have represented Great Britain at a senior level. Each year, the programme has postgraduate all-Americans from prestigious National Collegiate Athletic Association (NCAA) schools choosing to be part of the Team UWE Bristol American Football experience through the UWE Bullets team. Follow the UWE Bullets on Instagram.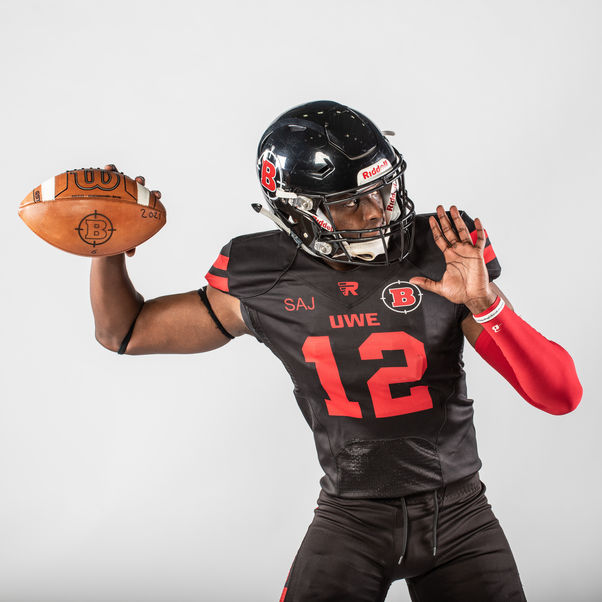 Your experience
You will get elite-level coaching throughout your time with the programme, combined with sport-specific facilities for training. On top of this, financial assistance is available and other support services on offer to help you excel in both your studies and American Football career.
Training and competition
View a sample of the weekly in-season schedule:
| | |
| --- | --- |
| Monday | Team meeting |
| Tuesday | Kitted practice |
| Wednesday | Team gym and non-kitted practice |
| Thursday | Kitted practice |
| Friday | Walk-through practice |
All games are played at weekends. There are eight fixtures in the British Universities & Colleges Sport (BUCS) American Football South Premier League, followed by the BUCS Playoffs.
Meet the coach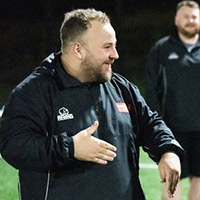 Coach Dan Maher heads up the programme at UWE Bristol and is one of England's finest American Football coaches. Since joining the University he has shifted the culture at the club and has imprinted his coaching philosophy on the programme. He firmly believes in an athlete-first approach – empowering the individual to be accountable for their actions on the pitch and to their teammates.
When you play for Team UWE Bristol American Football you must agree to live by the 'CDA' philosophy spearheaded through Coach Dan's leadership:
Can I trust you?
Do you care about me?
Are you committed to excellence?
Connect with the coach
If you're a high-performing American Football athlete, UWE Bristol could offer you exceptional opportunities and support to pursue your sporting ambitions through a Performance Student-Athlete Award. Complete this online form to connect with the coach and find out more about the award. If you have any questions please get in touch with Dan at daniel.maher@uwe.ac.uk.