First visa application
The first visa application you will make will be made outside of the UK for your pre-sessional English course only.
Second visa application
The second visa application will be made immediately after you successfully complete your pre-sessional course at UWE Bristol.
Understanding your visa requirements
Make sure that you understand the visa requirements of your second visa application before the end of your pre-sessional course, as some of the requirements are time sensitive.
We encourage you to contact us as early as possible so that we can advise you individually.
Confirmation of Acceptance for Studies
When you complete your pre-sessional study, accept your unconditional offer and pay your tuition fee deposit, you will receive a Confirmation of Acceptance for Studies (CAS) for you to use with your second visa application. Some students will also be asked to upload satisfactory financial evidence before being given a CAS.
You will be able to access your CAS from your UWE Welcome website. Please regularly check your Welcome website throughout your pre-sessional English course for important messages regarding your CAS.
What you need to do
There is no need to wait to receive your CAS before you start gathering the required documentation needed for your second visa application.

Make sure you familiarise yourself with the eligibility criteria and process for applying for a visa before you start your application. In particular, please ensure you understand the financial requirements and prepare suitable evidence.

For all immigration enquiries, contact our Immigration Advisers who will be happy to support as needed.
You may also be interested in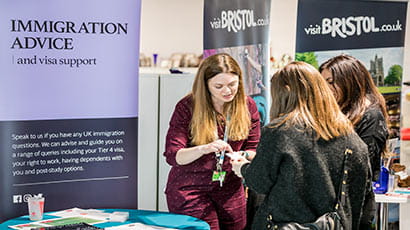 Help and advice on Student Visas for international students at UWE Bristol.