Confirmation of Acceptance for Studies
(CAS)
Updates
If you have previously received a Confirmation of Acceptance for Studies (CAS) but you have not used it to support a visa application, please contact an immigration adviser to check its validity.
If you have used a CAS but:
not received your visa during the advertised processing time
or
received your visa but not travelled to the UK during its validity
then please contact an immigration adviser to discuss next steps.
What is a Confirmation of Acceptance for Studies (CAS) – and how does it affect your visa?
To apply for a Student visa you will need a valid Confirmation of Acceptance for Studies (CAS) number. The CAS is a virtual document that confirms that an institution is willing to act as your educational sponsor.
It provides UK Visas and Immigration (part of the Home Office) with:
your personal details
details of your course of study
details of any fees you have paid to the University.
You will receive a CAS either as part of the admissions process if you are applying to study a new course, or from the Visa Compliance team if you are applying for more time to complete an existing course.
In order for your CAS to be valid it must:
have the same identity details on it as in your passport
have been assigned no more than six months before the date of your visa application
not have been withdrawn or cancelled by the student sponsor (UWE Bristol) or the Home Office
not have been used to support a previous visa application which was processed (in which the fee was collected).
Having a CAS does not guarantee your application will be successful. You must meet all the requirements of a Student visa application.
It's up to you to make sure that the course information – course title, start and end dates and so on – that appears on your CAS is copied exactly onto your application form.
Applying for a CAS
How you apply for a CAS will vary depending on whether you are a new or continuing student. Please be aware that as part of CAS production – and prior to you paying a deposit – you may be asked to participate in a UWE Bristol Pre CAS Interview with a member of our staff. This will help you think about what you need to know before joining UWE Bristol.
Offer holders and new students
Unconditional offers
If you have received and firmly accepted an unconditional offer from UWE Bristol and have paid your deposit, the Admissions team will contact you to begin the CAS process. If you believe you should have received this information but haven't yet, please email international@uwe.ac.uk.
The CAS will not be issued until you have paid the appropriate deposit or tuition fee for your course and completed all the CAS assessment tasks.
If you are progressing to a further course of study and late confirmation of your current award may prevent a timely visa application, please contact the Immigration Advice Service about a 'Highly Likely to Complete' letter. To be eligible, you should have passed all your taught modules. The letter is to be used for visa application purposes only, and cannot serve as proof that you meet academic offer conditions.
Conditional offers
If you have a conditional offer to study a degree-level course but have been accepted onto one of our Pre-sessional English programmes, the process will depend on your individual circumstances.
If your visa does not cover your main course, you will need to make a visa application for which a CAS will be issued only once you've successfully completed your Pre-sessional course.
If your visa covers your main course, there is no need to request a CAS or apply for a visa.
Continuing students
If you need to apply to extend your Tier 4 (General) or Student visa to complete a course with us, you'll need to complete a CAS request form. You will only be considered for a CAS if:
you are unable to complete your course within your existing visa (for example because you are returning from a placement year, progressing to level M of an integrated Masters, transferring course, returning from suspension of studies or unable to complete a PhD in time) or
you have resits or retakes which take place on or after the expiry date of your current visa, without a significant gap (exceeding 60 days) in study.
If you choose an optional hand-in date that's later than the original submission point, you will not be given a new CAS. Instead, you'll need to submit your dissertation either before your visa expires or submit remotely from outside the UK.
Please be aware that if the immigration rules prevent a visa application within the UK, a CAS may be withheld until you can provide evidence that you have left the country.
Requesting a new CAS after a visa application has been refused
Inside the UK
If your Student Visa application has been refused and you are inside the UK you will need to speak to an Immigration Adviser as soon as possible.
Depending on your individual circumstances you may need to leave the UK and make a new application from overseas. In this case, we generally can't assign a CAS until you have returned home.
Overseas
If you are overseas when your visa application is refused you will need to contact an Immigration Adviser and provide a copy of your Refusal Notice which states the reason your application was unsuccessful.
Before you can make a new visa application you will need to request a new CAS. Your CAS will be assigned to you once an Adviser has reviewed your case. If we are not satisfied that there is sufficient time for you to obtain a new visa and travel to the UK before the latest course start date agreed by the University, we may be unable to assign a new CAS and will advise you to defer your studies until the next academic year.
When will I receive the CAS?
CAS are issued up to three months before course start dates for new students and it is advisable to be ready to make an application for a Student visa as soon as you have the CAS.
Before a CAS can be issued UWE Bristol needs to be certain that:
you will not exceed any time cap as a result of completing your course of study
you have a genuine intention to study the course you have applied to study
your course leads to an approved qualification, which must be full-time
you meet the English language requirement
you can demonstrate academic progression if you have previously studied in the UK (Admissions will confirm this)
you have sufficient and credible funds for your tuition fees and living costs for yourself and any dependants who are applying with you*
you are not an overstayer if you are currently in the UK
if you have had a previous visa refusal, you satisfy the University that you have addressed the reasons for that refusal**
if you will be doing a work placement this is an assessed, integral part of your course which does not exceed 50% of the course duration.
*New applicants who are not on the UKVI low-risk national list will need to provide copies of bank statements and relevant documents for us to approve before we issue your CAS. We will communicate to impacted applicants via the Welcome website about this. Please note that if you are not able to provide valid bank statements or the bank statements are newly opened or contain deposits from unknown sources we may ask for further evidence and if this is unsatisfactory this could result in us not issuing a CAS and withdrawing your offer of study. Further information on fund requirements can be found on our Money and your visa page.
**We will not be able to consider applications if you have received a visa refusal for any country within the last three years. If you fail to declare this information on the application form, or at point of offer, we reserve the right to withdraw your offer. If you have already paid your deposit this may impact on your right to a refund.
You may also be interested in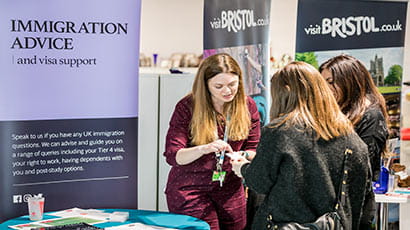 Help and advice on Student Visas for international students at UWE Bristol.