Apply in the UK
Guidance and support for applying for a student visa inside the UK.
Visa applications from within the UK
The information below is for those applicants who need to extend or switch to a student visa inside the UK.
You will need to apply for a student visa if you wish to study on a full-time course of more than six months at UWE Bristol. Student visas are granted for specific courses at specific institutions, and any change may require a fresh visa application. Contact us at immigrationadvice@uwe.ac.uk to discuss your circumstances if you are in any doubt.
Nationals of Ukraine who are not eligible to extend their student visa may be eligible for the Ukraine Extension Scheme. Contact us at immigrationadvice@uwe.ac.uk to discuss your options.
Your visa application
Applying from within the UK
You can apply for a student visa to start a new course of studies if it begins no more than 28 days after the end of your current permission. If the gap between the end of your current permission and the start of your new course (as stated on your Confirmation of Acceptance for Studies (CAS)) is longer than 28 days then you must leave the UK and apply from your home country.
You may also be able to apply if you need more time to complete your existing course – for example, because of a placement year, retakes, re-sits or to complete an integrated Masters programme. To make a student visa application inside the UK you must not have leave in any of the following categories:
Visitor
Short Term Student
Parent of a Child Student
Seasonal Worker
Domestic Worker in a Private Household
Leave outside the immigration rules
If your last grant of leave was in one of the six categories listed above then you must return to your home country and apply for a student visa from there. There are currently exceptions to this in relation to the children of diplomats in the UK. If you wish to apply under one of these exceptions, we advise that you speak to a UWE Bristol Immigration Adviser to discuss your application.
How to apply
There are three types of application – standard, priority and super-priority. The priority and super-priority options may not be available at all times.
Whichever option you choose, you will firstly need to complete the online application form and pay the associated fee online using either a debit or credit card.
A payment receipt is immediately available to you online after payment has been taken by UK Visas and Immigration (UKVI).
The standard service is the least expensive option but has a longer processing time. The super-priority service is the most expensive option but your application is decided quickly (subject to completion of biometric requirements) and if UKVI are satisfied with your application, you will receive a decision on the day. If successful, unless you receive electronic permission, your new visa in the form of a Biometric Residence Permit (BRP) will be sent to the correspondence address used in your application one working day after your biometric appointment.
Regardless of the service you choose, a UWE Bristol immigration adviser will help you with eligibility, supporting evidence and the application process. Subject to staff availability, we may be able to support you in person or with real-time screen sharing, but these services may be restricted at busy times of the academic year (particularly September, October and January).
You must be in the UK on the date of application or your application will not be considered. Please read the relevant policy guidance (PDF) produced by UK Visas and Immigration (UKVI) before submitting your application.
Costs
Fees are as follows:
the current standard application fee is £490
the current priority application fee is £990
the current super-priority application fee is £1,290.
There is no fee for enrolling your biometric data, but there may be a separate charge to do so in person by appointment with UKVCAS. See providing your biometrics below.
Applications for visas that are more than six months long will also include an Immigration Health Surcharge (IHS). The cost of this is based on the length of the visa that you are applying for.
This charge is in addition to the visa application fee and separate from the maintenance requirements of the visa application.
If you do not pay the IHS your application will be refused. The Home Office may contact you and request payment before refusing your application for this reason but you should not rely on this happening.
EEA/Swiss nationals with EHIC cards or S1 certificates may be eligible for a refund of the IHS. See guidance on gov.co.uk for further information.
Required documents
View the full list of documents you will need to provide as part of your application process.
When to apply
Check your entry clearance, student visa notification or biometric residence permit (BRP) to see when your current visa expires. You must apply before your current immigration permission ends. Your date of application is the date on which you pay the application fee and submit the application online.
We advise you to start preparing for your visa application at least three months before your current immigration permission ends, and longer if you need an ATAS clearance certificate.
If you are applying for permission to continue on a course that you are already studying, you can submit your application as soon as you meet all of the requirements. However, if you are applying in order to start a new course you must not submit your application more than three months before the start date, as stated in your CAS. You should also wait until you have finished, or almost finished, your first course before you make your application for leave to remain to study a second one.
Providing you submit a valid application before your existing visa expires, you can remain in the UK (with your study conditions intact) while you wait for the decision. You do not need your new visa in your possession before your current visa expires, as long as you apply in time.
If you cannot make an application before your current immigration permission ends you should leave the UK before this date and apply for entry clearance to return to the UK on a student visa once you meet all of the requirements.
If you remain in the UK after the date on which your current immigration permission ends without submitting an application for further leave to remain, then you become an overstayer, which is a criminal offence.
The University will not permit you to continue your studies if you become an overstayer and will withdraw your CAS, meaning that your visa application will be refused. If you think that you are going to be unable to submit a visa application before your current permission expires you should speak to a UWE Bristol Immigration Adviser.
Applying if you are under 18 years old
If you are under 18 years old you must only apply under the student route. UWE Bristol does not sponsor applicants under the 'Child Student' route.
Providing your biometrics
A visa granted in the UK is issued either as an ID card called a Biometric Residence Permit (BRP) or as digital status which you can view and prove online. Each will show information about you and your visa. The BRP also contains an electronic data chip which holds your information and fingerprints.
Which you receive will depend in part on whether you are eligible to use the UK Immigration: ID Check smart phone app. This will be determined as you complete the application form. If ineligible, you will be told to book an appointment to enrol your biometrics.
If instructed to book an appointment, log into UKVCAS. Appointment booking may be free of charge. However, the more conveniently located or scheduled you wish your appointment to take place, the more likely a fee (which can vary with location) will be charged. This is in addition to the standard or priority application fees. Regrettably, we cannot guarantee that the appointment will take place in Bristol. The nearest and most popular alternatives are in Kingswood, Bath and Cardiff.
Applicants using the Super Priority service will not be charged for booking the appointment as the charge is included in the overall application fee.
Students with dependants should be aware that the booking fee will be payable for each individual attending the biometric appointment. For example, a student applying with three dependants and booking a £60 appointment slot will be asked to pay £240.
In order for your visa application to be deemed valid, you must comply with the requirement to enrol biometrics and upload documents in support of your application.
You must take your identity documents (passport and BRP, if you have one) to the appointment. We strongly advise you also to take the evidence which has been uploaded.
Do not under any circumstances leave the UK while your visa application is being decided or while you are waiting for your biometrics appointment.
Please attend your biometric appointment promptly, and inform both UKVCAS and UWE Bristol's Immigration Advice Service if you anticipate problems getting there. After you successfully enrol your biometrics, your application will be assigned to a caseworker in UKVI and processed.
Interview process
Although it is relatively unusual, you may be asked to attend a credibility interview as part of the in-country application process. Interviews are normally carried out by a secure telecommunications system (similar to Skype), although sometimes they will consist of a face-to-face interview.
Your interview will normally be held at the closest centre to where you live. If there are no appointments available at your nearest centre you may be invited to attend the next nearest centre. However, if you are asked to attend a centre that is very far from where you live you should contact the Home Office using the email address provided in the invitation letter and ask them to move your appointment to a centre closer to your home.
During this interview a Home Office member of staff (either in person or by Skype) will assess whether you meet the English language requirements, and also if you are a 'genuine student.' If you are asked to attend such an interview you must do so (unless you have a good reason as to why you cannot), otherwise your application is likely to be refused.
The Home Office member of staff will ask you questions and a report of the interview will be sent to the caseworker who makes the decisions on your visa application.
Health screening
You will not have to undergo health screening as part of your application process when applying from inside the UK.
You may also be interested in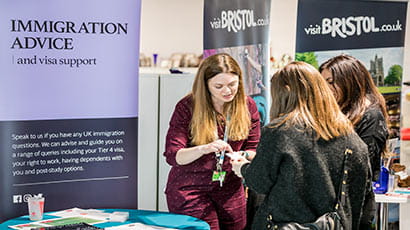 Help and advice on Student Visas for international students at UWE Bristol.