Academic Technology Approval Scheme
(ATAS)
Applying for an ATAS certificate
The Academic Technology Approval Scheme (ATAS) applies to a small number of postgraduate students who intend to study sensitive subjects. If an ATAS certificate is required for study, students will need to apply for one before they can apply for a student visa to start or continue their study in the UK. More information about the scheme and whether it applies to you can be found on the GOV.UK website.
Do I need an ATAS certificate?
You will require an ATAS certificate if you are an international student or researcher (see exempt nationalities below) who is subject to UK immigration control and intending to study or research at postgraduate level in certain sensitive subjects (typically science, technology and engineering).
If you are a new student you will receive a separate letter with your offer letter which will state whether you need an ATAS certificate and will contain all the information you need from the University to complete your ATAS certificate application.
If you are a continuing student or are already in the UK on a non-student visa an Immigration Adviser will be able to confirm if you need an ATAS certificate as part of your application.
If you know the Common Aggregate Hierarchy (CAH3) code for your course find out if you require an ATAS certificate on the Foreign, Commonwealth and Development Office website.
The following nationalities are exempt from the ATAS requirement:
When should I apply for my ATAS certificate?
An application for an ATAS certificate will take up to 20 working days to process. Processing times will increase between the months of April and September and can take 30 working days to complete. You'll need to upload your ATAS certificate to your UWE Welcome portal (or send a copy to the Visa Compliance Office if you are a continuing student) before we can issue your Confirmation of Acceptance for Studies (CAS).
It's a good idea to make your ATAS certificate application as soon as you have your offer letter if you are a new student. If you are applying to several universities you must apply for an ATAS certificate for each course.
If you are a continuing student you should apply for your ATAS certificate at least two months before you submit your visa extension application.
An ATAS certificate can be used as a valid part of a student visa application for up to six months after it has been issued.
What information will I need to apply for my ATAS certificate?
To apply online, you will need your course offer letter which should include information about your programme of study or research, including the relevant CAH3 code.
You will be asked to provide details of:
your previous studies
your previous/current employment (if applicable)
your published papers (if applicable)
your previous ATAS applications (if applicable)
optional modules you anticipate taking in a taught Masters
your area of research and a description (for research degrees)
full names and contact details of two referees
how you will be funding your studies.
What happens after I have applied for my certificate?
You should receive an email confirmation that your application has been received.
Allow up to 30 working days to receive another email letting you know the outcome.
If your application has been successful you'll be emailed a copy of your certificate.
If you're a new student, please upload this certificate to your UWE Welcome website.
If you are a continuing student you should email your ATAS certificate to PBShelpline@UWE.ac.uk. Your CAS will not normally be produced until you have provided your ATAS certificate.
You may also be interested in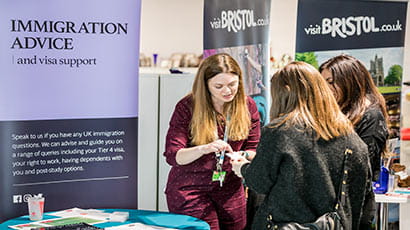 Help and advice on Student Visas for international students at UWE Bristol.