Our aims
We are committed to ensuring that all students and staff have full access to all aspects of university life and are able to fulfil their potential. We are working to ensure that we attract a more diverse student and staff body which is representative of society.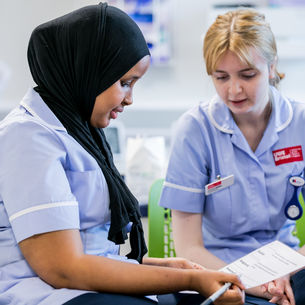 Access to work scheme
The Access to Work scheme administered by the Employment Service is available to overcome the practical obstacles faced by disabled people in work. It offers advice, help and grants to cover approved extra costs.
Staff with a disability or health problem which is likely to last for 12 months or more, and which affects the kind of work they can do, can get help through the Access to Work scheme in the following ways:
A communicator for deaf people, or those who have a hearing impairment, and need a communicator with them at an interview
A reader at work, for someone who is blind or has visual impairment
Special equipment (or alterations to existing equipment) to suit particular work needs arising from disability
Alterations to premises or working environment, if needed because of disability
A support worker, if practical help is needed because of disability, either at work or getting to work
Help towards the cost of getting to work if disability prevents the individual from using public transport
All approved costs for Communicator Support at interview, for Travel to Work, or for a reader or a support worker, will be met in full by Access to Work regardless of employment status at the time of application.
Staff will need to apply for the Access to Work help, but Human Resources and Occupational Health (staff login required) will provide help.
Accessible car park
If you have a local authority mobility Blue Badge you don't need a parking token or permit.
If you don't have a blue badge but still think you need accessible parking, you may be able to apply for an accessible permit.
Praying on campus
Please read our faith and spirituality information for details on prayer rooms and reflective spaces.
You may also be interested in