All UWE Bristol libraries have wireless network access and computers that can be accessed with a UWE network username and password. Library computers have a variety of access methods:
open and unlimited access
bookable in advance (up to one week in advance, maximum of three outstanding bookings)
scanner computers, limited to 60 minutes continuous use
quick-access computers, limited to 15 minutes continuous use.
Computer locations and how to book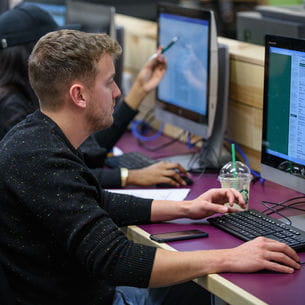 How to book a PC
You can book PCs at City Campus, Frenchay Campus and Glenside Campus. View student computer locations across our campuses, as well as guidance for booking a PC.
24-hour computering
The Library at Frenchay Campus provides 24-hour access to computers for all students.
Software
Find out:
where to find computers with specialist software installed, and what's available as standard on our student PCs
specialist software locations for student PCs.
Borrow a laptop
Self-issue loanable Windows laptops are available from Frenchay (level 3) and Glenside libraries, and MacBook laptops from Bower Ashton Library.
The laptops are free to borrow. You must log in to the laptop and stay logged in before taking it home. This creates a profile on the device, otherwise you may experience a domain error. Check with IT Services if you need further information.
Laptops can be borrowed for 24 hours.
You will need your UWE Bristol ID card to borrow a laptop - just follow the instructions on the self-issue screen. Laptops are issued to your library account and are subject to fines if returned late. Find out more about library fines.
You may also be interested in
We have spaces and facilities across all campuses that you can book or just turn up and use.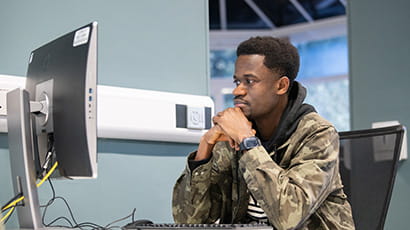 UWE Bristol student computers have assistive software installed which can help with your studies.