UWE Bristol Grand Challenge
Making a difference
After an exciting two years, the UWE Bristol Grand Challenge project has come to an end.
The Grand Challenge was an initiative for UWE Bristol designed to mobilise the energy, enthusiasm and intellectual capabilities of our students and staff to make a difference to a real-world problem. The topic for the two years was homelessness.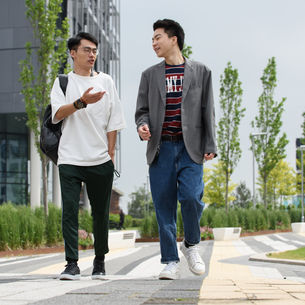 Structure
The Challenge operated through seven strands of inter-connected activity:
Academic departments
Professional Services
The Students' Union at UWE
Enactus
Writer in Residence
Student team activity
Volunteering
It was open to all UWE Bristol students and you could join in any of these seven ways. It was designed to support the formal curriculum and enhance the student experience.
2019/20 outcomes
Contributions from our students and staff for Grand Challenge 2019/20 included:
students who worked collaboratively on projects to address briefs set by local charities Caring in Bristol, 1625 Independent People, and Enactus, supported by staff acting as team coaches
a Library Services Writer in Residence who produced a series of new creative pieces to raise awareness of the issue of homelessness in Bristol
the embedding of learning around homelessness into the curriculum
fundraising initiatives like Charity of the Year, craft and bake sales, donation of food, toiletry and clothing items and a Sleep Out organised by The Students' Union at UWE.
Presentations
You can download presentations showcasing previous achievements:
"The students working on our brief did an amazing job at analysing and proposing improvements for a website that we manage. As we are a very small team, having these students volunteer their time to provide us with these insights has been incredibly valuable."
Holly Supporter Relations Assistant, Caring In Bristol 
Highlight the Hidden project overview
Watch Bella and Tom from the Highlight the Hidden team discuss their proposal for raising awareness of hidden homelessness to students across the University using a poster campaign.
1625 Independent People's project response
Watch Jamie from homelessness charity 1625 Independent People share his response to the Highlight the Hidden team's presentation of their innovative ideas.
Grand Challenge project concluded
Grand Challenge was a two-year initiative to build a community of practice across the university. The ideas of the Grand Challenge will continue to permeate throughout UWE Bristol beyond the initiative.
Thank you to all students and staff who participated in the initiative.