Loneliness is something that everyone feels at some point in their lives and each of our experiences are individual to us. To find out more about loneliness and what can cause and contribute to it, take a look at Mind's website.
We've pulled together some information on how to build connections and meet others. We hope you find this useful and remember, you can always reach out for support if you need help.
To find out how to access any wellbeing support you need, visit our wellbeing support information.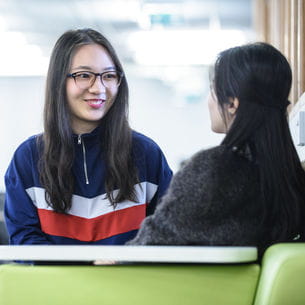 Tips to help with loneliness
Watch this short video from Mind for tips to help you with loneliness. 
Connect with others at UWE Bristol
University events
Take part in UWE Bristol events. The University hosts a wide range of activities throughout the year, from Feel Good to workshops and socials.
MOVE
MOVE offers a wide range of exercise activities and classes to help you meet new people, feel good and be active. Activities are designed for all levels of ability and experience.
The Centre for Music
The Centre for Music is open for members. Join them for music software tutorials, music lessons or music masterclass events. It's free to become a member and it's a great way to learn new skills and meet new people.
Volunteering
Volunteering is a great way to meet others, all whilst doing something great that makes you feel good. You can take part as little or as often as you like, and you'll meet people whilst helping your community.
Connect with others through The Students' Union at UWE
Events
The Students' Union at UWE host a range of events to keep you connected to fellow students.
Societies
Get involved with The Students' Union at UWE societies – it's a great way to meet like-minded people who share your interests, learn new skills and most importantly, have fun!
Connect with others in the community
Meetup
Meetup is a great way to meet other people in your local area. Browse groups by interest (like health and wellness, film, technology) or search for groups near you. Millions of people use Meetup and there should always be likeminded people nearby.
Time outdoors
Time outdoors provides a list of activity clubs in your local area, such as walking, running, climbing and cycling groups.
FriendMatch
FriendMatch works like a dating site, but matches people up with new friends rather than dates. Meet new friends near you, or connect with others around the world. There is a small fee of £4 per month to use the site.
Do It
Volunteering is another good way to meet other people. Search opportunities near you using Do It, the national database of volunteering.
Find support in the community
Befriending
Sign up for an informal weekly phone chat with Changes Bristol Befriending Service. Befrienders are trained volunteers who are happy to listen to you speak about how you're feeling, what challenges you're facing and how you're coping.
Student Space
Student Space offer free, confidential, one-to-one support by text, webchat, phone and email. They're there to help with whatever challenge your facing whether it's loneliness, mental health, studies, money, relationships or isolation.
Mind's online community
It's a powerful thing to connect with someone else over shared experiences. Side by Side is an online community where you can listen, share and be heard.