Becoming a member
In order to join any of our groups, use our facilities including access to rehearsal rooms, or come to any sessions all you need to do is sign up to become a member of the Centre for Music.
Membership is free for UWE Bristol students.
Membership is £25 per year for staff.
Membership is £40 per year for alumni and community members including access to UWE Singers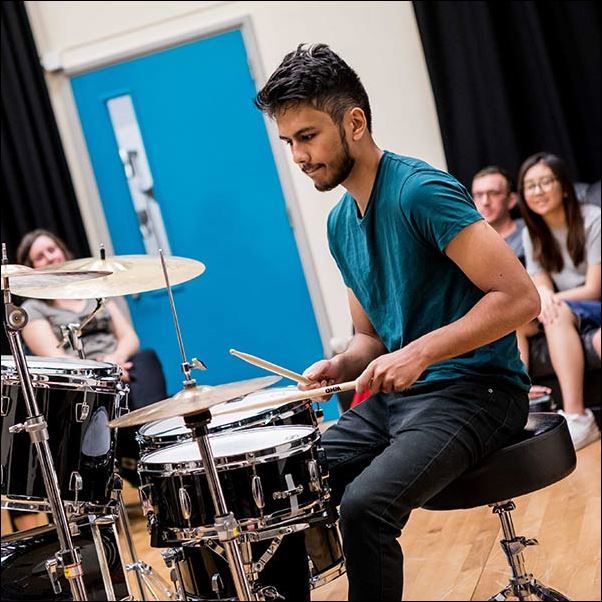 Staff and student membership
You can become a member by completing the staff and students online registration form. Student membership is are free but you still need to register.
Registration form - UWE Bristol students and staff
Membership covers access to all Centre for Music groups and facilities including access to rehearsal rooms and most other staffed sessions.
Please note: once you are a member you will be given access to our booking system. The Centre for Music is a facility for UWE Bristol students and staff only. Please do not bring non-members.
Student and staff members also have access to our four-week instrument and voice mini-courses for a reduced rate of £20.
Alumni and community
UWE Bristol alumni and local community can join the groups and ensembles listed below for a registration fee of £40 per academic year.
You can register to join our groups via the UWE Online Store.

Registration form – Alumni and local community
Please note: Community registration for our groups and ensembles does not include access to Centre for Music facilities or teaching. These are exclusively for UWE Bristol staff and student members.
What do our fees go towards?
Fees go towards the cost of the professional musicians and academic staff who run all of our activities in addition to the administration and music hire costs associated with them. Your fees directly support the next generation of young musicians and singers.
Centre for Music events
The Centre for Music runs a busy diary of concerts from September to the end of March each year in some great venues. Our various music groups are involved in all sorts of events around UWE Bristol and the city.
UWE Bristol events diary