UWE Orchestra
If you play an orchestral instrument at Grade 6 or above, we'd love to welcome you to the UWE Orchestra.
About UWE Bristol Orchestra
The UWE Bristol Orchestra is conducted by Senior Lecturer in Classical and Jazz Music Enrichment, Steve Legge.
We welcome players of all orchestral instruments at Grade 6 standard and above, including UWE Bristol staff and students, alumni and community members aged 16+ with a strong commitment to the rehearsal and concert diary.
Recently the Orchestra benefitted from masterclasses with Julian Bliss (Clarinet), Felix Kleiser (French Horn) and Braimah Kenneh-Mason (Violin).
Highlights:
Masterclasses from our partners at the Bristol Ensemble and visiting professional musicians.
Transforming Futures - our new commission especially composed for the UWE Bristol Orchestra and Singers.
Performances at St. Georges, Trinity URC and outreach projects.
To find out more about the orchestra and how you can join, please e-mail Centre for Music at cfm@uwe.ac.uk.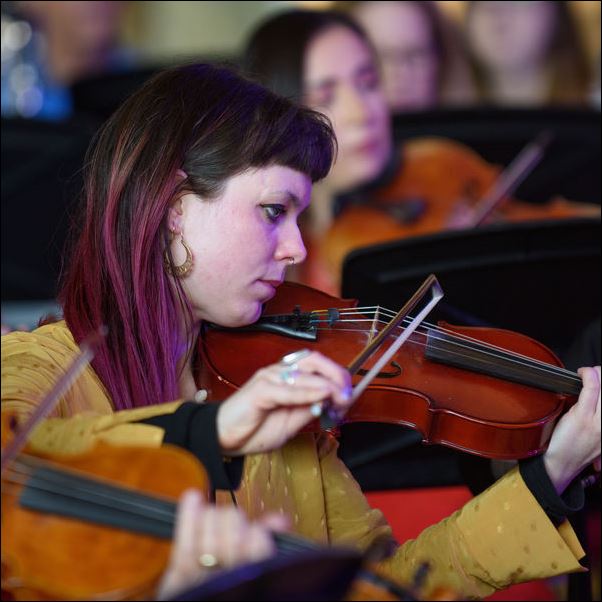 Reasons to join UWE Orchestra
Hear why our members enjoy being part of UWE's Orchestra.
Rehearsals
Location
2E027, E Block, Frenchay Campus.
"...a great way of meeting other students and making friends. The pieces are challenging and the people are friendly so I would definitely encourage students at UWE to come along."
Charlotte UWE Bristol student 
Performance clips
The following clips were recorded during a performance at Bristol Cathedral.
How to join
To join any of our Centre for Music groups, you firstly need to become a member. Membership is free for students. Once you are a member you can sign up for any of our groups and activities.
Become a member
Already a member?
Why not come and meet us? To join us for a rehearsal, please contact Steve Legge at steven.legge@uwe.ac.uk or 0117 32 84652.
No formal audition required but we do recommend a minimum of Grade 6 playing ability.