Gospel Choir
Open to all experience levels with no audition needed, the Gospel Choir is guaranteed to make you feel great.
About Gospel Choir
The Gospel Choir is directed by Kim Samuels, an incredible vocalist and part of The Kingdom Choir.
No previous experience or audition is needed to join the UWE Gospel Choir. Just come and experience a whole new way of singing and performing. We sing a mix of contemporary gospel music and worship music, all learned by ear in the traditional gospel style, performing throughout the year at UWE Bristol events and around the city.
Upcoming highlights:
Workshop with the fantastic Renewal Choir.
Community outreach events and Christmas celebrations.
Performance at Centre for Music's annual celebration the Festival of Sound.
Recording and entry in the 2024 BBC Gospel Choir of the Year Competition.
To find out more about the choir and how you can join, please E-mail cfm@uwe.ac.uk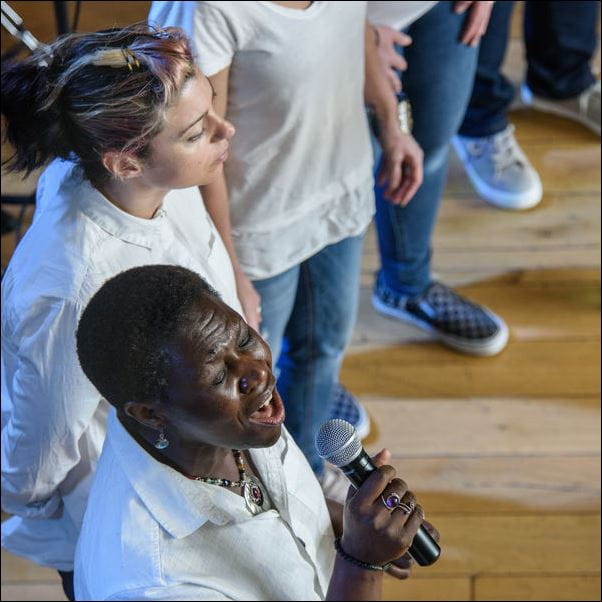 Reasons to join the Gospel Choir
Hear why our members enjoy being part of the Gospel Choir.
Rehearsals
Rehearsals take place on Wednesdays, 13:00 to 14:00 in The Octagon, Frenchay Campus.
How to join
To join any of our Centre for Music groups, you firstly need to become a member. Membership is free for students. Once you are a member you can sign up for any of our groups and activities.
Become a member
Already a member?
Why not come and meet us? To join us for a session please email Steve Legge at steven.legge@uwe.ac.uk or just come along to a rehearsal and see what it's all about.