Department of Applied Sciences Athena SWAN
The Department of Applied Sciences has been awarded an Athena SWAN Silver award, recognising our support of gender equality.
Athena SWAN Silver award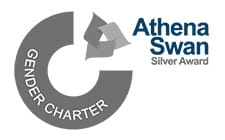 The Athena SWAN Charter recognises commitment to the advancement of gender equality in academia, including professional and support roles. The Department of Applied Sciences is a good practice supporter and since 2013 has been actively working to progress gender equality within the department. The Department of Applied Sciences is proud to have received a Bronze Athena SWAN award in 2013 and 2016, and a Silver Athena SWAN award in 2020.
View the 2020 Silver submission document (PDF) and read case studies (PDF) from staff and students within the department expressing their views on Athena SWAN.
Athena SWAN department surveys
In 2019 and 2016 we carried out surveys with a range of staff and students working in the department. You can view the results in infographic form, below:
Departmental Self-Assessment Team
The Department's Athena SWAN Self-Assessment Team meets six times per year. It includes representation from staff and students throughout the department, as well as representatives of undergraduate, postgraduate taught and postgraduate research students.
In addition to the work of the Self-Assessment Team, the Department holds regular surveys and events to survey its staff for their perspectives on topics such as parental leave, promotional opportunities and mentoring. You can enquire further about the departments activities from the Department's Athena Swan lead Dr Clare Wilkinson at Clare.Wilkinson@uwe.ac.uk.
Find out more about our Terms of Reference (PDF) and the Athena SWAN Self-Assessment Team (PDF).
Staff Recruitment and Progression Working Group
The Department's Athena SWAN Self-Assessment Team formed a working group in 2017-18 to examine issues and actions identified in our 2016 application in relation to the recruitment of department staff, and progression of those staff who are already based with us. The Staff Recruitment Working Group (PDF) met on a number of occasions and reported on their activities and actions in 2018.
University-level award
UWE Bristol holds a University level Athena SWAN Bronze Award. Find out more about the University's achievement and our commitment to Athena SWAN principles. 
University-level Athena SWAN
Equality and diversity at UWE Bristol
The Equality, Diversity and Inclusivity Team provides professional support and advice on equality and diversity for both staff and students.
UWE Bristol offers a number of mentoring schemes including the Equality and Diversity Mentoring Scheme and the Women Researchers Mentoring Scheme.
The University also has a Carer's Leave Policy, a Flexible Working Policy and Procedure, and a range of other useful policies, which can be found via Human Resources.
External resources
The following links provide a vast range of resources for considering equality issues in science, technology, engineering maths and medicine (STEMM):