You've chosen to study at UWE Bristol, but that is just the beginning. It's now up to you to create the kind of community where everybody is respected and valued, where we challenge each other to be a positive example to others.
How we live and work together each day will determine how successful we are individually and collectively. To be innovative and enterprising, we have to be collaborative and inclusive. Each of us is unique, therefore every one of us is different. Let's welcome, celebrate, explore and enjoy our differences.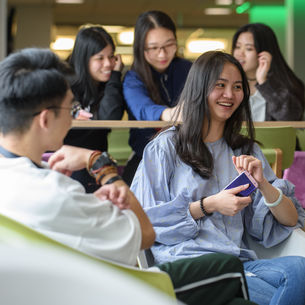 1. Watch the Speak Up animations
2. Ask yourself
What type of community do you want to be a part of? Write down five things that matter when you're looking for a community where you feel comfortable.
What values do these things represent?
How do the values you described above match UWE Bristol's values? Just in case you forgot, these are UWE Bristol's values, vision and strategy.
3. Watch conversations with The Students' Union at UWE President
The Students' Union at UWE President Augusta chats to the Pro Vice-Chancellor Jo Midgley about Community.
4. Community
In your programme session, you'll talk about Community.
Community can refer to many things: academic communities, local communities, learning communities and our University community.
Community things to do:
Help keep our community safe
Learn more about the role you play in keeping our community a safe and welcoming place.
Keep us safe